UPDATE: THIS CONTEST IS NOW CLOSED! NO ADDITIONAL ENTRIES ARE BEING ACCEPTED!
Everybody loves little 1-inch button pins! Especially when they have really cool stuff on them. I originally invested in pricey professional button-making equipment for a charity fundraising event. Eventually it occurred to me that it might be cool to make buttons for my blog and pass them out at blogger meet-ups and stuff. When TequilaCon came around, I took some Blogography pins, some custom pins for bloggers I knew, and a big bag of 60 "generic" designs so everybody else could have pins to trade. By the end of the night all my pins were gone, and everybody seemed to have fun with them.
So I decided to add pins to the Artificial Duck Store for sale in ready-to-buy sets or pick-and-choose sets that customers can assemble themselves. There will also be the option for bloggers to send in their own artwork and have custom pins made. It's button fun for everyone, and I call them DuckyButtons...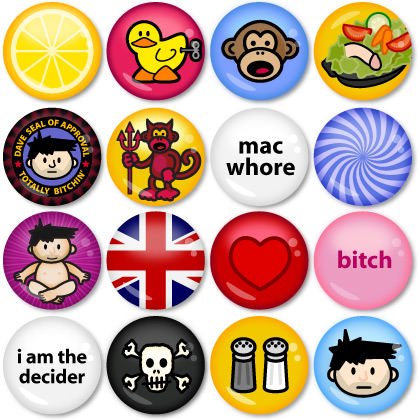 In celebration of this new addition to the store, today's contest will feature button prizes...
TODAY'S $150+ GRAND PRIZE DRAWING...


$50 Amazon Gift Certificate ($50 value). Rather than shipping heavy books, region-specific DVDs, or CDs that get ripped and tossed in a landfill, I've decided to pass out Amazon Gift Certificates. This means prize-winners can get whatever they like and, since Amazon is available in several countries around the globe, it's a prize most everybody can enjoy (even if the US dollar doesn't buy as much as it used to).



Six Sets of DuckyButtons ($24 value). Pick any six sets you like, or create your own 5-button sets. DuckyButtons are sure to bring a smile to your face... or to anybody else's you meet when you wear them. And since you're getting 30 buttons, that's a month's worth of sweet wearable art to wear and share!



Twenty-Five Custom-Made DuckyButtons with Your Design ($25 value). Email us any one design or photo you like, and we'll turn it into 25 beautiful custom buttons of your very own! Use them to promote your blog, impress your friends, or distribute wearable pictures of your cat... so long as it isn't copyrighted, we'll make buttons from whatever you want!



Three Artificial Duck T-Shirts ($51 value). Yep, that's right, get any three shirts you like from the Artificial Duck Store... keep them for yourself, or give them out as gifts that will impress those lucky people you deem worthy of wearing them!



World-Wide Shipping (up to $35 value). No matter where you live on planet earth, rest assured you won't have to pay a dime to claim your prize because shipping is included.

And that's not all, today you also have two other chances to win...
TODAY'S $40+ RUNNER-UP PRIZE DRAWING (TWO WINNERS!)...

Two Sets of DuckyButtons ($8 value). Your choice of two sets of super-sweet DuckyButtons in whatever designs you like... that's ten buttons to wear and share!

Fifteen Custom-Made DuckyButtons with Your Design ($15 value). Email us any one design or photo you like, and we'll turn it into 15 beautiful custom buttons of your very own!

One Artificial Duck T-Shirts ($17 value). Pick any shirt you like from the Artificial Duck Store, and be happy knowing that you'll be wearing a T-shirt that makes you at least 10% hotter the minute you put it on!

World-Wide Shipping (up to $12 value). Of course shipping is included, because that's the way I roll here.
AND NOW FOR THE RULES...
If you have left 10 comments at Blogography for year-ending 25 April, 2007... all you have to do is send an email to CONTEST EXPIRED! and you're done!
If you don't have 10 comments, you have to include answers to your choice of FOUR of the five questions listed below in order to qualify (sorry, but I'm trying to give a break to those who are regular contributors to Blogography).
HURRY! Your entry MUST be received by TOMORROW: THURSDAY, APRIL 26th AT 9:00PM P.S.T. (Seattle time).
Winners will be revealed on Sunday, April 29th.
Okay then, if you didn't leave 10 comments in the past year, PICK FOUR of the five questions below, and be sure to include the answers in your email entry to CONTEST EXPIRED! All the answers can be found in the Blogography History links listed below or by using the "Search Box" in my sidebar...
How many photos did I take when I visited Bryce Canyon in Utah?
Where was I born?
In which city did I enjoy the best shower I've ever had?
In which city's Hard Rock Cafe did I visit my 100th Hard Rock property?
On which musician's "floor" was my room when I stayed at the Hard Rock Hotel Chicago in November, 2004?
Remember, the entry deadline is TOMORROW at 9:00pm P.S.T. (Seattle time)! Good luck!
10 BLOGOGRAPHY MOMENTS IN HISTORY, YEAR TWO: 04/04-03/05

Dave writes his most Googled blog entry ever.
Dave lives here.
Dave takes really cool photos from the air.
Dave takes even cooler photos right here on earth.
Dave flies to Dublin, Ireland so he can look at a book that's being made into a killer animated feature.
Dave talks about his childhood, and shares a photo that Google-searching pedophiles will probably enjoy.
Dave goes looking for Robin Hood, but gets cake instead.
Dave live-blogs for the first time under less than ideal circumstances.
Dave blogs a "Day in the Life" entry, and swears never to do it again because it's just too much work.
Dave picks three guys he might go totally gay for.