Well take a look at what we have here... it's my four-year blogiversary!
And if you had told me back at the beginning that I'd still be writing in Blogography... daily, no less... four years hence, I'd have thought you were insane (and then probably killed you because that kind of crazy just shouldn't be wandering the streets). After all, I had two failed blogs under my belt from the previous three years, and there was no indication that Blogography was going to be any different. The only change was that if Blogography didn't work out, it was going to be three strikes and I was done.
But here I am, still writing my daily dose of incomprehensible crap.
Year One was a mess, filled mostly with memes and boring stuff that I should have deleted long ago. Year Two was when I finally got my shit together and my blog was everything I wanted it to be... "the golden years," if you will. Year Three was the hardest, with too many bumps in the road and crazy crap that had me contemplating shutting Blogography down. And here we are at Year Four, and the blogging habit is such a big part of my life that I can't see an end to it. So it must be time to celebrate...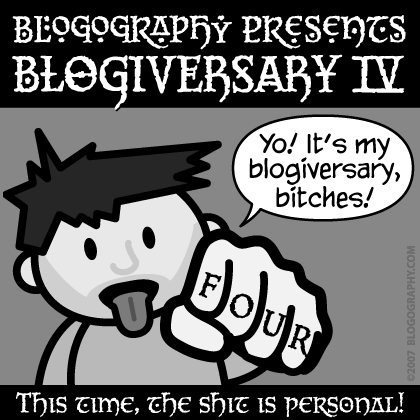 Yes indeed, this time the shit is very personal, as you will find out during this week-long party that has been five months in the making. Just like previous years, there will be hundreds of dollars worth of prizes to win and good times along the way, but there are going to be some changes as well...
Each of the four prize days will symbolize one year of Blogography, and I'll be writing up a summary of each year along with some choice links for exploring my blogging past.
Just like last year, to be eligible for the Grand Prize drawing you'll have to correctly answer some trivia questions, but this time the answers will be in the summary links, so you won't have to spend hours searching... this is supposed to be fun, not work!
I have re-worked the prizes to be more "foreign friendly." Readers outside the USA now comprise half my regular readership, and last year there were people who didn't enter because shipping charges to foreign addresses was not included and the cost was prohibitive. That's not the case this year, and I've done my best to make sure everybody can play.
With that in mind, the prizes this year mean a great deal to me because they're mine.
The week culminates with the official grand re-opening of the Artificial Duck Store... and this time it's a real store with a proper shopping cart, inventory status, and such. Hopefully this will eliminate (or greatly reduce) the number of orders which cannot be filled because of out-of-stock merchandise. And that's a good thing, because there will be a lot more of it!
The schedule of events looks something like this...

Oh yeah. You might want to tune in every day, because it will undoubtedly be worth your while. :-)