One of the horrible things about having a blog is that you meet new friends who like nothing more than taking up your time and ruining your life. But in a good way. As an example, I met up with Vahid and Dustin for a while at Powell's during TequilaCon, and suddenly I have a list of 20 books I want, but won't have time to read. But I'll end up making the time anyway, hence the "ruining my life" part. It's the same for most bloggers I keep tabs on... they're always recommending a book or movie or food or something cool that I'm dying to see/read/experience, but just don't have time for.
But the worst offender would have to be Avitable. The bastard regularly throws out questions, comments, or recommendations which waste hours and hours of my valuable time. He'll drop a Buffy reference, and suddenly I'm consumed with watching all 144 episodes of Buffy The Vampire Slayer on DVD. He'll start talking about Warren Ellis' blog, and suddenly I'm clicking over and wasting precious time going through his extensive archives. It's like I'm on remote-control or something. I don't know if it's because Avitable and I have similar interests (scary), because we're on the same mental wavelength (terrifying), or because we are somehow sharing the same brain (explains a lot), but the guy is responsible for more lost time in my life than the next ten people on my list combined.
A few days ago he sends me off an email asking about a few comic titles, wondering if I read them. On the list is Robert Kirkman's Invincible, which happens to be one of the greatest comic books ever. Since I only buy the trade-paperback collections, I haven't read it in a while. For some reason, while trying to fall asleep that night, I'm remembering what a great read Invincible is and pondering why in the heck I haven't looked at it recently. Next thing you know, it's 1:00am and I'm digging through my comic collection trying to find my Invincible trade-paperbacks. Then, because they are so damn amazing, I spend the next five hours reading them until I realize that it's time to get up and get ready for work.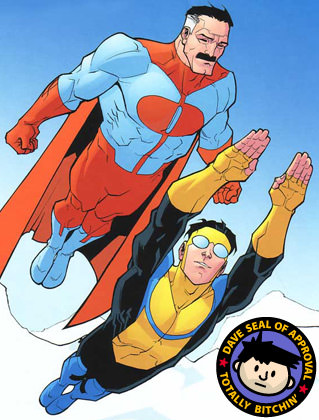 Naturally, I'm practically useless all day while trying to operate on no sleep, which only means I'm that much further behind in my work. Even worse, Avitable has to tell me of another Kirkman creation, The Walking Dead, which he assures me is fantastic. So now on top of ruining an entire day of my life, he's intent on ruining future days as well (since I've just ordered a crap-load of Walking Dead books).
Not content to contain the destruction to myself, I'm spreading the love by adding Robert Kirkman's Invincible to my Dave Approved list. It's fresh. It's funny. It's shocking. It's invincible!
Even if you are not a hard-core comic book geek, this is one book you really need to check out. I'd highly recommend starting out with the Ultimate Collection: Volume One hardcover (which collects the first 13 issues/3 trade-paperbacks). On top of containing some of the best super-hero comics ever printed, it also has the totally mind-blowing issue #11, which reveals one of the biggest plot-twists in comic book history (seriously, I'd stack it against Watchmen any day!). It's Sixth Sense good, and blew my mind so badly that I probably read it a dozen times before I could wrap my head around it.
I remain hopeful that Invincible will be released as a movie one day (I think it was optioned by Paramount last year?), so experiencing the book before the film happens is an absolute must. Even if you don't want to buy it, request it from your local library and prepare to be amazed.