For the past couple of weeks I've been occupying what precious little free time I have by working on my book. It's been over a year since I stopped writing Daveology, and I could never seem to get back in the writing habit. After parting ways with my publisher, my enthusiasm for the project had slowly dwindled to zero, and nothing ever inspired me to take it up again. There's also the drama involved in finding a new editor I can work with. As you have no doubt surmised from reading my crap at Blogography, having a strong editor will be essential for anything I might publish. Sure people are willing to ignore my weak sentence structure and total misuse of punctuation when they are reading for free, but something tells me they will expect all the various grammar bits to be in their proper places if they have to pay for it.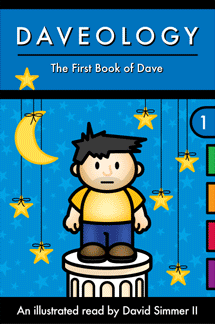 When I was originally approached about turning my blog into a series of books I had no interest in attempting it. A previous movie project (based on a comic book treatment I drafted) had nearly destroyed me. Sure it started out great, but after eighteen months and a dozen trips to L.A., all I got out of the deal was heartache and disappointment. And a fat paycheck. But when you put your heart into something, the money can't wholly compensate for the desolation you feel once everything has turned to shit. With this in mind, the idea of going through it all over again for a book deal with no fat paycheck didn't seem worth it. Much like being very protective of your testicles after having been smacked in the balls by a shampoo bottle, my creative heart is guarded.
But eventually I was convinced to give it a try. I guess this means I'm not very good at guarding things. Which is why you should never ask me to keep an eye on your stuff while you go to the bathroom. Not only will it probably end up missing, but I won't be very apologetic about having screwed up. You should have known better.
The outline for the book project seemed simple enough: repackage and expand my favorite entries with a narrative thread. But after a month of back-and-forth, it became apparent that my publisher and I had very different ideas as to how the book should take shape. They didn't want the cartoons, photos, and illustrations, just the words. This didn't make any sense to me because I'm not a very good writer... to me the cartoons, photos, and illustrations ARE Blogography. Eventually a compromise was reached, but it was just the first in a series of many concessions I'd have to make. Finally seeing the Big Picture as to how things would end up, I wanted out. If I couldn't create the book I wanted, I didn't want to create a book at all. Fortunately, my soon-to-be ex-publisher liked me well enough to end things amicably, which was pretty swell. Had I been in their position, I would have shown up in person to collect the advance money, then kicked my ass.
And that was the end of that. But with a third of Daveology completed, it seemed a shame to let all those weeks of hard work sit on a shelf. Unlike the failed movie project, I harbored an illusion that something could still come of it one day, even if I had to self-publish. I didn't care about making any money, I just didn't want my time to have been wasted. But, like so many things in my life, this ambition soon faded as more interesting projects (i.e. those that paid money) came calling.
Then I woke up one morning around Valentine's Day and suddenly decided I wanted to try writing again. True to form, I didn't start until a week later, but the decision had been made. Whether this new-found compulsion will last long enough to actually finish the book, I have no idea. I'm fickle that way.
In the meanwhile, I blunder onward in an attempt to fill the pages of a book that may never see the light of day.
This morning I started a new chapter which begins thusly:
Do you know that feeling you get in the pit of your stomach when you're pouring a can of Coke into a glass and the foam starts to rise up? That utterly helpless feeling when you suspect that you've poured too much soda too quickly and don't know if the Coke is going to overflow and make a mess or settle back down into the glass? That's the feeling I get at the moment I realize sex is in my immediate future.

When I'm pouring a Coke for myself, there's nothing to be nervous about because nobody is watching (at least I certainly hope not) and I can make a mess free from judgement. But it's an entirely different situation when I'm pouring that same Coke in front of an audience.

Most of the time I'm able to channel this nervous energy and put it to good use. Everything works out okay, the glass is filled to mutual satisfaction, and everybody walks away a winner (have a Coke and a smile!). But sometimes things don't go as planned, everything ends up a mess, and all you get for your embarrassment is a sticky residue that never seems to disappear off the kitchen counter entirely.

This is a grossly unfair situation because, by comparison, women have it easy. All they have to do is decide if they want to have that Coke in the first place, then leave the pouring to some poor bastard looking for a caffeine fix. Fortunately for them, men are born with a caffeine deficiency and always happy to serve up a glass. The insanity of it all is enough to make me want to drink straight from the can, but I'm just not that flexible.
...and so on.
As you can see, the book is a bit more personal than my blog ever gets. Apparently my writing is not quite so private when I know people are going to pay money for it. Well, except those cheap bastards who borrow a copy from the library.
Alrighty then! One hour until my connecting flight home, and boy am I thirsty. I think I'll go guzzle a bottle of Coke and try not to think of what that implies.