I didn't get any sleep last night, so after my morning meeting I decided to catch up on some shut-eyet back at the hotel. This was a pipe dream, however, because housekeeping service was ramming their noisy vacuum into every wall, door, and piece of furniture on my floor.
Eventually I gave up on sleep and decided to head into the city.
Fortunately, it was another beautiful day in Chicago, with blue skies (tempered by freezing winds). This was a nice follow-up to the weather last night when the skies were clear, and the full moon looked amazing hanging over the river...

I hadn't been to The Shedd Aquarium in ages, and decided to pay a visit. After the Osaka Aquarium Kaiyukan in Japan, it's one of my most favorite fishy places...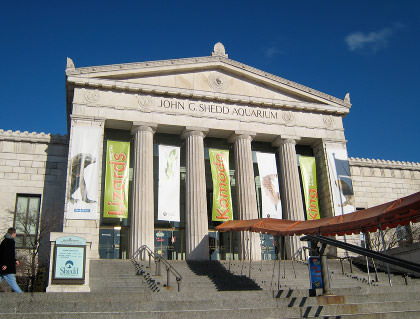 But The Shedd offers plenty more than just fish. My most-beloved creatures on earth are lizards and frogs, which are nicely represented in various exhibits...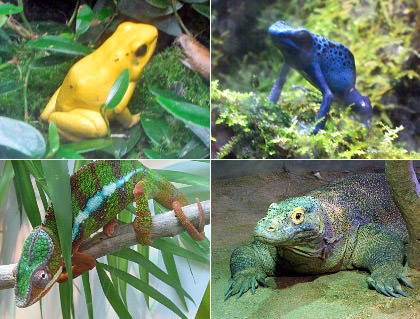 I also like snakes, and there were some exotic species hanging out at The Shedd, like these two guys who look like they're sleeping in a tree...

They also have otters, seals, a beluga whale, and even a penguins exhibit...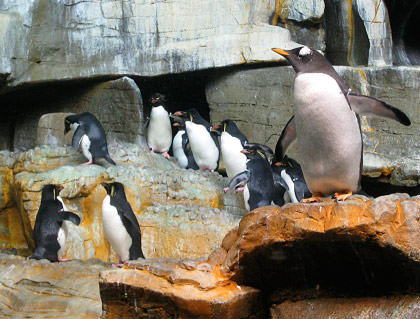 The theming of the various exhibits is lush and fun to look at, but the stars of the show are definitely the creatures who inhabit the place. My favorite this time around was a cool frog who was just chilling out in the water and watching people walk by...
After blowing over two hours at the aquarium, I decided to get some new footwear. My last four pairs of shoes were bought at NikeTown Chicago, so I didn't think there was any reason to break that tradition for my new pair. Fortunately, they had the shoes I wanted, and all I had to do was wait for them to be brought up. While I was waiting, a woman and her high school-aged son came wandering by. The son was interested in a limited edition pair of Nike GOLD Air Force One shoes. They come with 24k gold-plated tips on the laces, and a gold-plated belt-buckle and keychain to match...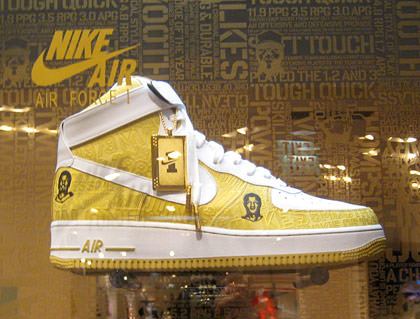 I wouldn't wear them, but the kid wanted them. Even once he found out that they carried a $2000 price tag.
And here's the kicker... HE BOUGHT THEM!
The mother's question was "what you want with a pair of $2000 shoes? That's a mortgage payment! But it's your money, so I'm just going to sit down over here and be quiet while you spend it."
MY question would have been "where the f#@% does a high school student get $2000 to spend on shoes?"
Once I had purchased my far, far cheaper shoes, I met up with some friends who drove down from Kenosha to have dinner with me and wander down the Magnificent Mile for a while. I ate entirely too much, so now I'm taking some Pepto Bismol and going to bed.
And thus ends my last day in the Windy City.
Now that I think about it, I really should have went back and bought a pair of $2000 gold-plated shoes so I could be all cool at TequilaCon. Of course, that would just ensure that they would get soaked in beer or puked on, so maybe it's for the best I didn't.