This morning I woke up woefully behind in my email. As I'm pouring through it all, I quickly notice a bunch of comment notifications on several different entries left by the same guy. This isn't terribly unusual, because every once in a while somebody discovers Blogography for the first time and gets a little excited about leaving feedback. It's actually kind of nice when it happens.
Except this time. The first comment was about how this guy had a blog for a year, but finally gave up on it because nobody was reading. "If I had known I needed to draw cartoons and write nonsense to build an audience, I would have never started in the first place" he said. Things just got stranger from there. Comment #4 was a rant about how "nobody is elevating blogs to their potential for serious discourse" and then "crap like this (i.e. Blogography) should be deleted for clogging up the internet with stupidity." Comment #5 was priceless, because he stopped slamming me and my blog, and decided to turn on my readers (this means you). "Why in the hell are you people wasting your time with this crap?" he ponders. "42 comments about Vanna White on a mattress? Are you all insane or mentally deficient? How many comments would you leave if somebody wrote about cleaning the grout in their bathtub or wiping their ass?"
An aside here... If he had dug a little deeper in the archives, he would have found out that an entry about wiping my ass resulted in 27 comments. I'm still working on that bathtub grout entry.
But it was comment #7 which stole my heart. After blasting away at me, my blog, my readers, my genealogy, Google, The New York Times, a few A-list bloggers (like Dooce, Robert Scoble, & Perez Hilton), and the entire blogosphere in general, he decided to unleash his wrath on... wait for it... Farrah Fawcett??
Yes. You read that right. Farrah...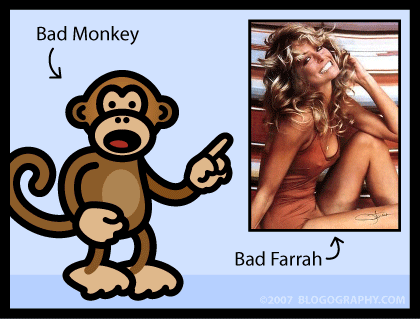 And no spanking my monkey in front of the Farrah poster!
Don't ask me why. I'm assuming Farrah doesn't have a blog, so maybe she set his computer on fire or something. Let your imagination run wild. All I do know is that Farrah is somehow partially responsible for people not reading the guy's stuff, and he is kind of upset about that.
Usually I delete comments like this and don't mention it, because the last thing I want to do is encourage this kind of behavior. Nasty comments which do nothing to contribute to the conversation simply aren't worth the trouble. If you want to disagree with me (or give me a verbal spanking) for something I've written, then more power to you. I have no problem approving comments like that. But I refuse to waste my time and energy on comment trolls who want a soap box for their wacky crap. They can start their own blog (or, in this case, un-delete their old blog) and leave me out of it.
But the idea of having Farrah Fawcett in one of my blog entries proved too compelling, so here we are. I understand she did very well with her recent medical treatment and is now cancer-free, so way to go Farrah. Maybe now we'll get that original Charlie's Angels reunion people keep talking about.
Anyway, there was no email address or link left with any of the comments, so I guess this is the end of it.
Ironically, if the guy's comments are any indication of what his blog was like, I would so totally have read it.