This is the conclusion of TequilaCon Week here at Blogography...
Gee, can it really have been a week since I flew off to Portland and the wonders of TequilaCon? Apparently so.
One of the hazards of attending a blogging event packed with talented, clever, interesting people is that you leave with a big pile of new links for your blogroll. This is a happy event if your blog is new and your blogroll is empty. But if you've been blogging four years like I have, odds are your blogroll is already stuffed to overflowing.
Time to move my blogroll to a separate page.
Now I've got room to keep a running tally of all the bloggers I've met, but it seems a shame that I can't promote those many bloggers I enjoy but haven't met on the front page. Looks like it's time to look at finishing up my BloggerPeeps project.
The original idea of BloggerPeeps was to create an "blogger anti-network" and offer a visual directory of bloggers I read. One of my favorite parts of the project was the idea of creating a little "Peep Popper" widget which would randomly cycle through all of the BloggerPeeps members... kind of a compact blogroll with little Peep-Heads that shift in and out...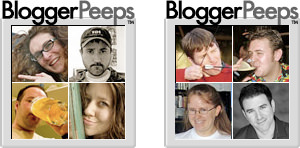 I built the Peep Popper in Flash so it could do all the nifty things it needed to do, but could never get it to work right. I've made a temporary non-working widget, but still want to find somebody who knows how to program Flash ActionScript so I can have a real one.
In the meanwhile, the BloggerPeeps site is here, and there are already two amazing bloggers listed there from last year (which was when I started this project). To keep things interesting, I'll be adding a new Peep-Head every week.
Okay then... until TequilaCon 2008, I guess that's all she wrote.