I have abysmal eyesight. Mostly because my vision got very bad, very fast when I was young. The good news is that once my eyesight plummeted to a -6.75, it stayed there and never really got any worse (thankfully, or I would have gone blind years ago). I've been fluctuating between -6.5 and -6.75 for the past 25 years, and seem to be stuck there.
I started out in glasses. But when my eyes reached their apex of badness, I switched to contact lenses because the glasses were just too thick to be comfortable. I had what were commonly referred to as "Coke Bottle Glasses," and hated them. Soft contacts had just come out, and they were fantastic. I felt transformed...
Well, not THAT transformed. I still had years of fashion therapy, braces, and vats of Clearasil before that would happen...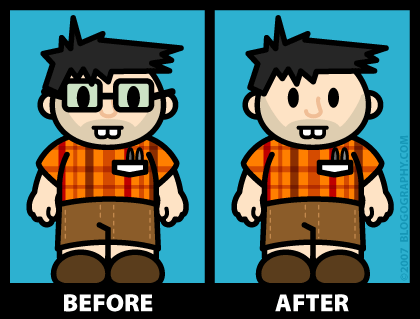 But lately my contacts have been increasingly uncomfortable. Where I used to be able to wear them for days at a time, I'm lucky to make it 9 hours now. I've thought about having that laser surgery where they slice your eyeball open and then zap your vision to perfection, but then you end up with reduced night-vision and problems seeing things close-up. On top of all that, I've got lots of little floaty things in my eye, and laser-zap-o-fix-a-vision might make them noticeably worse.
So now I've come full-circle and will probably end up wearing glasses again.
Getting old sucks ass.
And I'm totally pissed that my optician just laughs at me when I demand a prescription for Retinox 5. Where's Dr. McCoy when you need him?