Welcome to Bullet Sunday at Blogography, where everybody is bitchy and nobody is getting licked! Oooh... those insider-TequilaCon-jokes are going to be torture for the next week or so...
• Turbulence. I almost think that the constant problems with the flights back home (one cancellation and two delays) were devised by fate so a to spare me from that final hop to Wenatchee. The turbulence was so bad that people were being thrown about... with books, tickets, passports, iPods, and everything else not nailed down being tossed around around the cabin. I rarely get motion sickness, but things were so bad that I thought my stomach was going to leap out of my mouth. After landing, I decided the only thing that sounded good to eat was a Quizno' sub sandwich, but when I got to the restaurant at 6:00, they had just closed. WTF?!? How stupid do you have to be to close early around the dinner hour? Even if there was a reason... like a power failure... the least they could do would be to post a sign as to why they had closed two hours prematurely. Jerks. Oh well, I'm home in one piece, so it's hard to complain too much.
• Ladykiller. Yeah, this photo from Hilly pretty much sums up the "TequilaCon Experience" for me...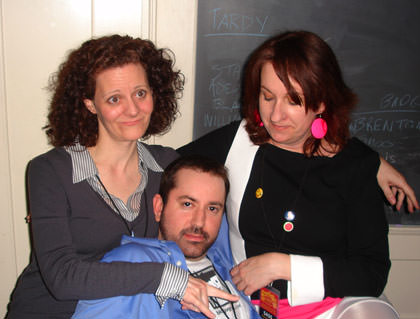 Yes, bitches! I am one sexy bastard! Just ask Jenny and Sass...
• Lanyards. To make sure that TequilaConners would be able to spot each other while wandering the halls of The Kennedy School, Jenny and I came up with the idea giving lanyard name badges to everybody. That way, in addition to feeling all superior while walking around in a hotel/bar/restaurant filled with non-believers, attendees would have an easy introduction to each other. A couple of people have written and asked how they can get an official TequilaCon lanyard, and I'm sorry to say the only way to get one is to have shown up. But don't be too sad if you missed your opportunity, you'll have a chance to get one all your own at TequilaCon 2008!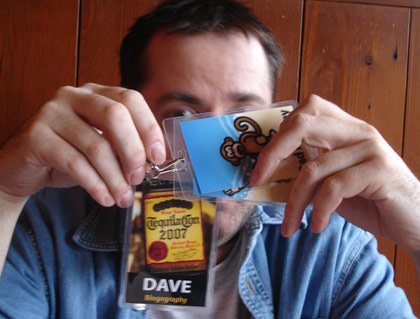 Photo courtesy of Hilly's mad camera skillz.
• Experience. Karl has posted his photos, which resulted in a more terrifying look at my TequilaCon experience...

Dave & Hilly get lanyardized. — Dave and Karl are TequilaCon studs.
Dave makes fun of Dustin's umbrella. — I'm a pretty pretty princess in Hilly's tiara!
Dave gives Hilly a tattoo. — Must moisten tatoo to adhere to skin!
• Powells. While Vahid, Dustin, and I were exploring the massive science fiction section of Powell's City of Books yesterday, the conversation came up about the first science fiction book we had read. I remembered mine was called "Jupiter's Song," or something like that, and Vahid and I set out to find it. After making numerous enquiries with a guy staffing the customer service desk, we came up empty. No "Jupiter's Song." No "Jupiter Effect." No "Jupiter Files." After giving up, we're walking around Powell's when we hear the loudspeaker make an announcement "Would the customer asking about the Jupiter book please see the customer service desk in the Orange Room... we've located the actual title for you." AND THEY DID! After we had left, the guy sat there plugging away trying to find a sci-fi book with "Jupiter" in the title, and had found "The Jupiter Theft" by Donald Moffitt. They didn't have it in stock, but they did have a couple other Moffitt books which I picked up. Amazing customer service, and all the more reason to patronize your local independent book store.
And I'm about ready to fall asleep, so it's off to bed for me. I'm sure more TequilaCon-related madness will be popping up for a few days yet. Sorry about that.