I must be doing something right, because the volume of hate-mail I've been getting lately is five times what it was a year ago (I started keeping count after the Scary Clown Incident of 2004). February isn't even over yet, and I'm at a record-breaking 14 hateful emails/comments for the month! I always try to respond to people who have the balls to sign their name and give a valid email address... but all the anonymous crap is deleted with such speed that one could say it never existed at all (except as a tally-mark on my hate-mail count sheet). And since 90% of the stuff is from anonymous pussies who actually think I give a crap, hate-mail and hate-comments are never much trouble.
I suppose I should be crying on the inside, but my inner-child seems to be sleeping at the moment.
I wonder how much trouble I can get into today?
I am blessed with teeth that are naturally white. Since I don't drink coffee, don't smoke, and brush them three times daily, they tend to stay that way. And when I say "white" I don't mean "literally white" because they are actually teeth-colored which, in fact, is kind of an off-white color. But ever since I switched to the delicious Crest Whitening Expressions Cinnamon toothpaste, I've noticed that my teeth have been getting even whiter (whoa... the shit actually works!). They're now more white than off-white, and I am quite pleased about that.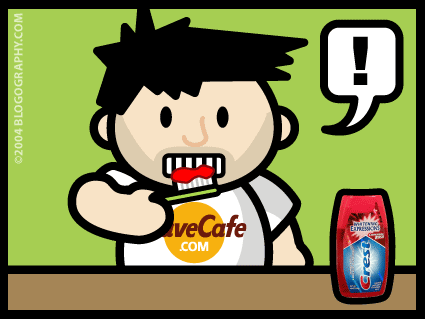 Unfortunately, I have an addictive personality and never seem to be content when something better is on the horizon.
Having mostly-white teeth simply isn't good enough anymore. I find myself secretly wanting brilliant-white teeth...
When I smile, I want anybody not wearing sunglasses to be temporarily blinded.
So when Crest sends me a $7.00 coupon offer that can be applied to a box of Crest White Strips, it's like offering a crack-addict a vial of cocaine. I clicked that link faster than Britney checks out of rehab, and have my credit card ready.
At least until I find out that the retail cost of a box of White Strips is $39.99, which means my desire for brilliant-white teeth requires an investment of $32.99... PLUS TAX!
Holy crap! For that kind of money I can buy the biggest Maglite flashlight they make (for temporarily blinding people), and still have money left over for a couple bags of Golden Oreos! I don't mean to sound cheap or anything, but $35 for whiter teeth? Maybe if my teeth were brown this would seem like a bargain, but I can't fathom paying $35 when my teeth are already mostly-white. I guess that I'll keep brushing with my whitening toothpaste and hope for the best.
And now, because I am a total meme whore, I've put that "book meme" that's been working its way around the blogosphere in an extended entry (I can't remember if I saw it first from Frances or SJ)...
THE BOOK MEME!
Science Fiction, Fantasy or Horror? I'm equally in love with Sci-Fi and Horror, but have never much cared for Fantasy.
Hardback or Trade Paperback or Mass Market Paperback? Paperbacks are too small. Hardbacks too uncomfortable. Trades are juuuuuust right.
Amazon or Brick and Mortar? I love a good book store (like Elliott Bay Book Co. or Powell's) but, since those are hours away from where I live, I mostly order over the internet.
Barnes & Noble or Borders? I like them both equally, but the bookstore at Pacific Place in downtown Seattle is a Barnes & Noble, so I guess they have the edge.
Hitchhiker or Discworld? Hitchhikers is like one of my favorite series EVAR.
Bookmark or Dogear? If it's a crappy paperback I've picked up just for an airline flight, marking my place with a dogear doesn't bother me. But I would never, ever do that to a borrowed book (including those borrowed from the library) or a hardback (unless I was reading a shitty book by Ann Coulter or Rush Limbaugh for some reason).
Magazine: Asimov's Science Fiction or Fantasy & Science Fiction? I read neither, but would probably pick up a copy of "Asimov" before I would grab "Fantasy & Science Fiction." My favorite magazine is British movie mag "Empire."
Alphabetize by author, Alphabetize by title, or random? Author, in publication date order.
Keep, Throw Away or Sell? I usually end up keeping my books but, if I am running out of room, I'll donate those I don't want to a library sale or something.
Keep dust-jacket or toss it? If a book comes with a jacket, I keep it of course!
Read with dustjacket or remove it? If I have a convenient place to put it, I'll remove it. If I'm traveling or something, I'll leave it on.
Short story or novel? Novels. I've never much cared for short stories except for those "Encyclopedia Brown One-Minute Mystery" compilations when I was a kid.
Harry Potter or Lemony Snicket? I could never get into either one, and think that they are both overrated. From what little I've read, I think the Lemony books are better-written and less pandering.
Stop reading when tired or at chapter breaks? Depends on how good the book is. Mostly I prefer to stop at a chapter break.
"It was a dark and stormy night" or "Once upon a time?" Both are so totally cliché that I would probably stop reading if I ran across either opening. If forced to choose, I'd pick "dark and stormy" because it sounds more interesting.
Buy or Borrow? I buy and borrow in equal amounts. If I wasn't afraid of losing a library book when I travel, I'd probably borrow more than buy.
Buying choice: Book Reviews, Recommendation or Browse? One of the great things about the Elliott Bay Book Co. is that the employees are all veracious readers and tape their recommendations to the bookshelves. I have found more incredible books by browsing their reviews than any other method, so I guess it's a combination of all three?
Lewis or Tolkien? Tolkien. I absolutely despise the Narnia crap, despite dozens of people telling me that they are the greatest books ever written. Tolkien, on the other hand, is an amazingly talented writer.
Collection (short stories by the same author) or Anthology (short stories by different authors)? If I can pick the author, I'll take the collection. Most times I buy anthologies, it's too much a mixed bag for my tastes.
Tidy ending or Cliffhanger? Depends on which suits the story better, sometimes an ambiguous ending is more fun. But if it's a cliffhanger not for artistic purposes, but instead to break the story in two and sell more books... I LOATHE THAT SHIT!! I will never, ever read a James Patterson novel again because I got to the end of "Roses Are Red" and found out that the story was incomplete until I went out and bought "Violets Are Blue." This is very upsetting to me, because Morgan Freeman's interpretation of Alex Cross in the movie adaptations is killer.
Morning reading, Afternoon reading or Nighttime reading? Anytime I have a chance to read, I'll take it. Usually this is late at night when I am in bed, can't sleep, and don't feel like working.
Standalone or Series? If the series is a set of self-contained adventures, I love a good series. The Tarzan and John Carter books by Edgar Rice Burroughs are series GOLD, with many of the more interesting installments taking place later on.
New or used? I prefer new, because you never know what the person before you has done with that book. When borrowing from the library, I try not to think about it.
Favorite book of which nobody else has heard? Douglas Adams (of "Hitchhiker's Guide to the Galaxy" fame) wrote a wonderful book about tracking down nearly-extinct creatures that is one of the most beautiful books ever written. I have wrote about "Last Chance to See" in Blogography often, and people who track it down always thank me for the recommendation.
Top 5 favorite genre books of all time? I have no idea what a "genre book" is, but am happy to list my favorite books of all time...

Noble House by James Clavell. I've read this novel at least a dozen times, and love it more each time I do.
Dune by Frank Herbert. The ultimate science-fiction novel.
Hitchhiker's Guide to the Galaxy Trilogy by Douglas Adams. Funniest books ever by one of the most brilliant minds ever.
Jonathan Livingston Seagull by Richard Bach. The book that changed my life. For real.
Son of Tarzan OR Mastermind of Mars by Edgar Rice Burroughs. My favorite of the Tarzan and John Carter books (read them online for free! Son of Tarzan / Mastermind of Mars).

Favorite genre series? It's a dead-tie between the aforementioned "Tarzan" and "John Carter of Mars" books by Edgar Rice Burroughs. Surprisingly, Tarzan is one of my most-hated movie characters, because they always make him stupid. That being said, I cannot wait for a good John Carter movie!
Currently Reading? I'm re-reading Asimov's Foundation Trilogy for the hundredth time.
Hmmm... unless some rabid C.S. Lewis fan decides to send me hate-mail for calling the Narnia books "crap," I think I'm safe!