Why is it that crazy crap always seems to happen on my birthday each year? Sometimes it's a good thing... the first version of MacOS X was released on March 24 back in 2001, for example. But usually it's bizarre crap like a fish-painting festival* back in 2000, or the Jonesboro Massacre back in 1998, or the Exon Valdez oil spill back in 1989. Not the best birthday material.
Today I find out that this year, March 24, 2007, it's going to be INTERNATIONAL SHUTDOWN DAY. The idea is that this will be a global experiment to determine whether or not people can cope without computers for just one day. They ask you to "shut down your computer and find out!"...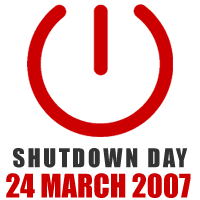 To which I reply "go frak yourself."
Seriously. What kind of stupid-ass shit is this? The entire world is run by computers now-a-days. Are air-traffic controllers supposed to shutdown their computers for the day to see if airline pilots can "cope" with crashing into each other? Do hospitals shut down the computers controlling heart monitors and crap to see if patients can "cope" with going into cardiac arrest? Even if they are just talking about shutting off your personal computer for the day, what is this going to prove? Could I go a day without my computer? Of course I could. Would I ever want to? No. What would be the point? To find out how many people can manage to be computer-free without going insane? Who cares?
I mean, I suppose I could spend my birthday getting drunk off my ass so I wouldn't care about turning on my computer, but it would be kind of rude to ignore the thousands of birthday wishes emailed to me that day. Besides, some of my best blogging is done when I am drunk off my ass, and I can't imagine denying my millions of fans such a treat. It happens all too rarely.
This year it's "International Shutdown Day" — what's next? International Don't Eat Tacos Day? International Don't Flush The Toilet Day? International Eat With Your Feet Day? Who comes up with this stupid crap, and why does it always seem to happen on my birthday?
I feel very strongly that March 24 should instead be "International No Stupid Shit Day"... in perpetuity... so I never have to face this ridiculous dumbassery on my birthday ever again...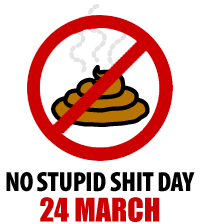 That would be the best birthday present ever!
Of course, the one benefit to not turning on your computer for a day would be that you don't have to hear about stuff like "International Shutdown Day." Maybe I've acted too quickly here...
*At first I thought it might be kind of cool to have a painting created by a fish from the fish-painting festival. You'd take a fish, dip him in water-soluable, non-toxic paint, then let him flop around on the canvas to create art. After he had created something suitably interesting, you'd wash off the fish and release him back into the wild. Unfortunately, this is not quite what the organizers had in mind. They were quite adamant that the fish used to create the art would be DEAD. Oddly enough, you do not paint ON the fish as the name implies, but instead use a dead fish to paint WITH. Why anybody would want to do this is beyond my ability to fathom, however.