This is probably one of the worst days ever, even though I got a new router and have internet access again.
For reasons I won't dwell on, it became necessary for me to have access to Microsoft Windows Vista. My POS Dell PC (which imploded a few months back) didn't seem to want to install it, so I was left with the option of either buying a new Windows machine, or installing Vista on my Mac (something I swore I would never do). Since time was of the essence, and the idea of having to buy a new PC filled me with dread, I decided to just bite the bullet and defile my Mac with Microsoft's latest abomination of an OS...
I used a Mac program called "Parallels" which allows you to run Windows right along with Mac applications on the same screen. It's not the best Windows experience, but it is the most convenient. It allows you to start up Windows and shut it down almost instantly, which is pretty slick. Windows apps even appear in your Dock...
This does nothing to make me feel better about running the Windows OS on my beautiful Mac, however. I just feel so... unclean. Kind of like I need to drink a bottle of Scotch to forget or something.
Anyway, I've put a superficial review of Vista in an extended entry. In summary, it sucks ass. If you want the details as to why I feel that way, feel free to read onward.
Now, as far as Windows goes, I am not a big fan. I find it clutzy, distracting, ugly, and altogether inelegant when compared to the Macintosh. Vista doesn't really improve upon this much, which means you are fighting the user interface constantly while trying to get stuff done. Finding examples of this is all too easy. Take a simple text search on a web page. With Windows, you get a search box much like you do on the Mac. The difference is that a "not found" result ends up generating yet another dialogue box to get in your way and clutter up your workspace...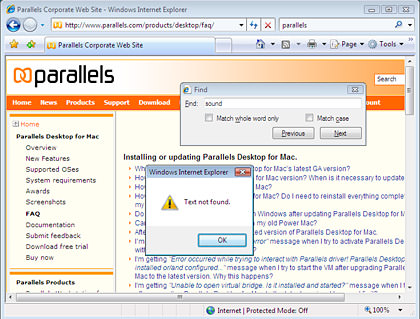 In order to search again, you have to dismiss the error box and start over. On the Mac, you don't have this mess. The "not found" result is flagged in the same box, the search text is highlighted to be replaced with a new search, and you are instantly ready to go again...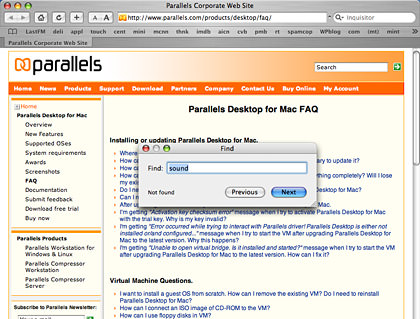 As I said, elegant. It's little touches like this that make using a Mac such a better experience, and illustrate my biggest problem with Windows. It just keeps getting in the way. The more you use it, the more you see how bad it is. Even worse, it's confusing. Unlike the Mac's unified menu bar, Vista sprinkles menus everywhere (a step down from the Windows XP which preceded it). Half my time is trying to find out where everything is, and then targeting them with my mouse once I find them. I think these are called "ribbons" or something like that, but what they really are is clutzy and annoying.
The good news is that the new Internet Explorer 7 respects minimum width and maximum width CSS settings, so Blogography finally renders as intended (I'm one of the lucky ones... some sites are so messed up with IE 7 that they're non-functional)...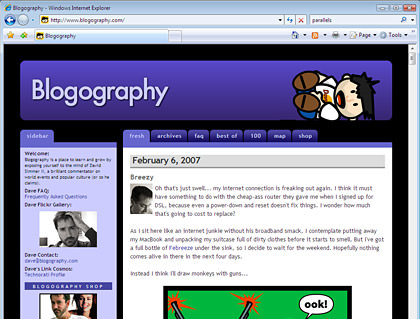 Unfortunately, while it renders correctly, it still manages to look crappy. Text is difficult to read and tends to disappear, even on Microsoft's own MSN site...
What compounds the problem is that everything in Windows is distracting. Just downloading files off the internet generates a window with flying papers and a pulsing green bar with strobe effects. And heaven help you if you have to download more than one file, because Windows generates A NEW WINDOW FOR EACH DOWNLOAD! I ended up with a handful of these stupid things all animated and pulsing on the desktop which is something nobody should have to endure. And note that we've still got DOS lurking in this "modern" OS with drive letters still hanging on...
And then there's the Mac, which has ONE simple window no matter how many downloads you've got going on...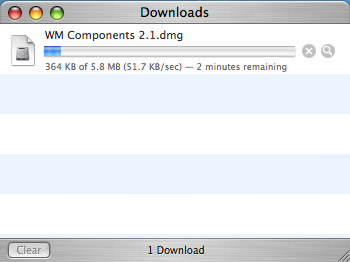 But the biggest sin for a graphical-oriented guy like me is that Vista is just plain fugly. They tried really hard to make it look all slick and modern, but they did it in the worst possible way. All the candy-coating actually ends up piling on more needless distraction (much like the earliest versions of MacOS X). Take, for example, Microsoft's horrific plagiarism of Mac's "Dashboard Widgets" which they call "Sidebar Gadgets." Even putting aside the cluttered implementation, the "Gadgets" themselves are just f#@%ed up...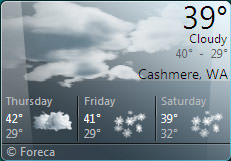 Needless glossy effects that are inconsistent with the shading for the rest of the interface are coupled with blurry, incomprehensible graphics that render this "Gadget" totally stupid. I compare it to the elegantly simplified and beautifully crafted Mac version, and marvel that they could get it so wrong considering it's just a copy...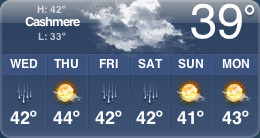 I could spend pages giving dozens more examples of these annoying flaws, but it basically boils down to the same things shown above, over and over again: Windows Vista is clutzy, distracting, ugly, and altogether inelegant. About the only thing going for it is speed. Vista's interface seems noticeably faster than OS X. Unfortunately, since it's so much more difficult to use, the speed benefit is totally negated. I am far, far more productive on a Mac than I could ever be on Windows, almost as if Microsoft had designed it that way.
I remain adamant that if Microsoft were to ever come up with something really amazing, I would have no problem switching to Windows... an Apple Whore I may be, but an Apple Zombie I am not. The problem is that there's nothing noteworthy in Vista that gives it any kind of edge over a Mac. And when you factor in that Apple will be releasing their new OS in a few months, that just makes Vista kind of sad and dated, despite having just been released.
In the end, I was just expecting so much more than what was delivered, and Vista isn't a view I want to take.