Oh that's just swell... my internet connection is freaking out again. I think it must have something to do with the cheap-ass router they gave me when I signed up for DSL, because even a power-down and reset doesn't fix things. I wonder how much that's going to cost to replace?
As I sit here like an internet junkie without his broadband smack, I contemplate putting away my MacBook and unpacking my suitcase full of dirty clothes before it starts to smell. But I've got a full bottle of Febreeze under the sink, so I decide to wait for the weekend. Hopefully nothing comes alive in there in the next four days.
Instead I think I'll draw monkeys with guns...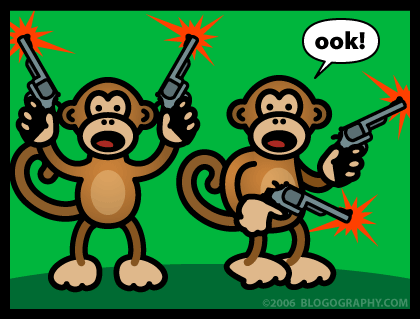 Monkeys with guns are funny.
Unless, of course, you happen to be anywhere in the vicinity when they are firing them off. Something tells me that monkeys would tend to be a bit irresponsible with guns.