After two weeks of relatively sane weather, I had packed away my gloves and coat in anticipation of Spring's imminent arrival.
Given that five inches of snow decided to drop this morning, I can see that this was a stupid move. And, as if that weren't scary enough, the killer geese decided to pay a visit as well. I think the snow only made them more angry than usual, because around twenty of them were honking around the building for an hour or so... presumably out for blood. Fortunately, they left before I had to go to the movie theater (Kapgar was totally right, Breach was a pretty good flick... AND it had Jaye in it!).
In other news, here is me sitting on a pile of money...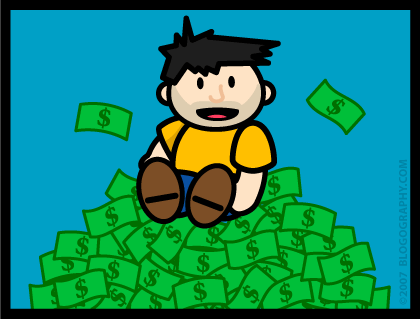 Apparently, this is what some people think my life is like after I started blogging. I received another email today asking me about all the money I'm making off of Blogography, and what my secret is to being a successful blogger. Like last time, I remain dumbfounded as to how people could think that I get any money from doing this when I don't have advertisers or membership fees. I guess the money is just supposed to fall from the sky or something.
So as not to disappoint those people who think of me as some kind of millionaire blogger, would y'all mind sending me a couple thousand dollars? I think if everybody pitches in, I can start living the fabulous and excessive lifestyle that is expected of me. That would be great, thanks.
And now, just for Hilly, I am answering her feed reader/blogroll questionnaire in an extended entry...
Do you read blogs off of the list that is linked on your site or do you use a feed reader? I use a feed-reader because there is no other way I could possibly keep up with the hundreds of sites I read. For those few sites that don't have feeds, I put them in my blogroll so I remember to check in from time to time (as a side-note, some blogs I would otherwise read are dumped if they don't have webfeeds).
If so, what feed reader? I currently use a Mac tool called NetNewsWire because it syncs with a service called NewsGator. But I am in the process of switching to Google Reader in anticipation of my subscription to NewsGator expiring (Google Reader is free!).
What about adding people to your feed reader? If I run across an interesting blog, I add it to see if it stays interesting. If somebody is a regular commenter on my blog, I add them to my list to get to know them better. If somebody recommends a blog, I go ahead and add them. I am usually pretty generous about adding stuff to my reading list, because you'll never get a sense about a blog until you've lived with it for a couple weeks. Likewise, I am quick to delete if it's not something I am interested in or if they post infrequently.
What is your policy on adding people to your blogroll? If I love a blog, I add it. If you are a friend with an interesting blog, I add it. Basically, it's stuff I think other people might want to see.
What about deleting them from your blogroll? If a site stops getting updated for a while or stops being interesting to me, I delete it (since I only have 75 spots in my blogroll manager, somebody has to go before I can add somebody new).
Would you delete them from your reader and not your blogroll? I only edit my blogroll once or twice a year, so I'm sure this happens all the time. In general though, if I delete a blog from one place it is deleted from the other... eventually.
And now, since I have to go to work in the morning, I think I retire to bed for another couple chapters of Asimov's Foundation and Empire.