Despite the fact that I have to teach classes and speak publicly from time to time, I don't consider myself to be very good at it. It's one of those things I would probably avoid at all costs if it were an option. But showing up for career day at my graduating high school seemed like the least I could do, so I bit the bullet, slapped on a name-tag, and off I went.
As expected, it seemed as if only a handful of the students who showed up had any real interest in graphic design, and I doubt my presentation was going to win any converts. I can barely explain what I do in 15 minutes, let alone answer questions or offer advice. To compensate, I had hand-outs to give away that would (hopefully) tell everybody what they needed to know for filling out their mandatory questionnaires...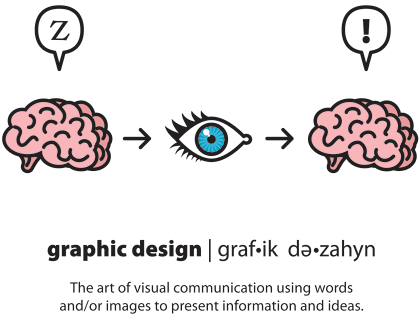 Anyway, I was anticipating a major disaster because, well, it's me we're talking about here... but the audience was attentive and thoroughly nice throughout the entire ordeal, so it was relatively painless.
I mean, hey, I didn't get shot at, wet myself, puke, or die, so I guess that's about the best I can hope for...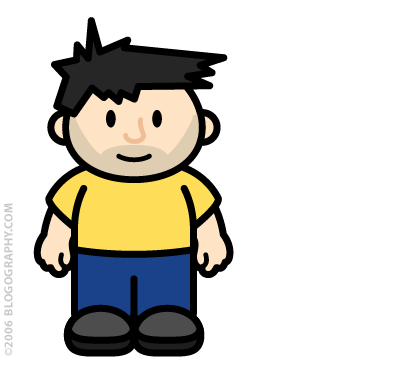 Still, going back to my high school is a strange experience.
Mostly because I have mixed feelings on having served time there. The best I can say about high school is that my experience was "average." I didn't love it. I didn't hate it. It was something I had to do and so I got through it the best I could. Sure I had friends, participated in extra-curicular activities, and somehow managed to get good grades... but 90% of your time is spent in class, and I always found the classes to be incredibly boring.
Being a computer geek back in the early 80's didn't help much. Personal Computers were so new that most people didn't know what to make of them. I was just another one of those freaky nerds who liked sitting in front of a glowing green screen at the library all day long punching buttons. And, despite what college recruitment ads like this say...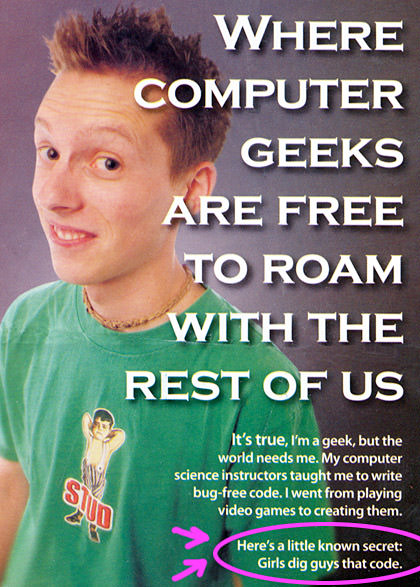 ...girls only dig "guys that code" if the guy in question A) Is a millionaire, B) Looks like a Greek god, or C) Has an 11-inch penis (and is preferably possessing a combination of all three).
Setting aside my own massive penis-size for a moment, I'd have to say that there is no "little known secret" in the fact that the hottest girl in school is far more likely to be dating the captain of the football team instead of some geeky nerd who likes computers.
They may have changed the carpet and the paint on the walls of my old high school, but I'm fairly certain this universal truth still holds.