So here I am in Germany again, awaiting my flight back to the USA tomorrow morning. It's a bit sad, because there always seems to be a dozen things that I would like to do in Europe every time I'm getting ready to leave it.
Though there is one thing that I will not mind leaving behind... the smoking. There's really no way to escape it and, since it seems like 99% of the people here love their cigarettes, there's not much that can be done about it. Sure many restaurants offer up a "no smoking section," but it's in name only. I can't tell you how many times I've been put in the "non-smoking section" only to have people light up at the very next table. Even at the Hard Rock, it turns out the "non-smoking section" usually ends up being just a few tables immediately next to the smoking area (which, let's be honest, is the entire restaurant).
An even better example could be found as I was waiting for my flight this morning. There I was sitting in Lisbon's airport which has signs posted saying "Lisbon Airport is Non-Smoking." But there are "smoker's kiosks" everywhere, and all the cafes and bars allow you to light up. Non of these areas are segregated or ventilated in any way, so this self-proclaimed "non-smoking airport" is filled with smoke...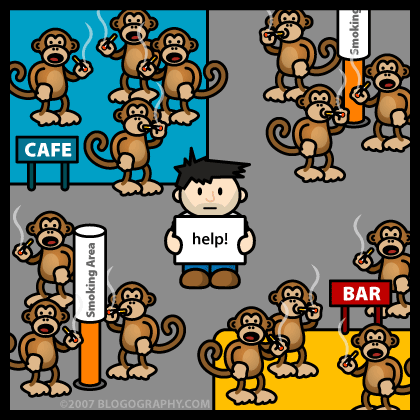 By the time I boarded my flight, my clothes reeked of cigarettes so badly that you would think I had just smoked a pack prior to hopping on the plane. It's one thing to go to a bar where you are expecting people to smoke... but it always bothers me to be eating cigarette smoke with my meal or having to sit in a cloud of it while being held captive at the airport. It's been 15 years since I've smoked a cigarette... maybe I should start up again so it won't bother me so much next time?
Speaking of being held hostage...
Here at my hotel, I have three choices for internet access...
1/2 Hour for €4.50 ($5.80) - Usable ONLY in the hotel lobby, bandwidth limit of 50 megs.
2 Hours for €9.50 ($12.30) - Usable ONLY in the hotel lobby, bandwidth limit of 150 megs.
24 Hours for €29.00 ($37.50) - Useable anywhere, non-transferrable, bandwidth limit of 400 megs.
WTF?!? To use the internet in the comfort of your own hotel room, it's a minimum of $37.50. That's THIRTY-SEVEN DOLLARS AND FIFTY CENTS!! Holy shit! I could probably take a taxi into Cologne and get blown for that! It amazes me that Europe has such astoundingly high access fees AND puts limits on your bandwidth (as opposed to back home where many hotels offer free internet with no limits). I guess I won't be downloading any new television shows for the flight.
Oh well... my television here gets Comedy Central TV, so I'm going to watch Pamela Anderson in an episode of Stacked. Believe it or not, she's actually funny when dubbed in German.
Probably because I can't understand a word she's saying.
Bleh. I am not looking forward to a 9 hour flight, followed by an hour layover, followed by a 6 hour flight, followed by a 4 hour layover, followed by a 45 minute flight. That's almost 21 hours of total travel torture. When are we going to be able to beam ourselves from one place to another like on Star Trek?