It's Bullet Point Sunday at 30,000 feet as I fly cross-country for my layover in Seattle!
• Mouthy... Is there an over-abundance of loud-mouthed, obnoxious bitches in the world... or is it just my grave misfortune to be consistently seated in their vicinity during long plane flights? I had yet another one behind me for a lovely 9 hour flight out of Cologne. This woman talked CONTINUOUSLY, irritating the shit out of just about everybody. Fortunately, by the time she got to her rant about Mexico being a "dirty, disgusting, 3rd-world country that she won't visit," I was able to turn on my iPod. This saved her from my wrath, as I was just about to start screaming "SHUT UP! SHUT UP! SHUT UP! SHUT UUUUUUUP!! But, alas, I couldn't resist being a smart-ass when she was in the lavatory...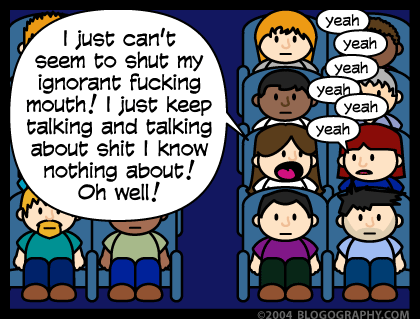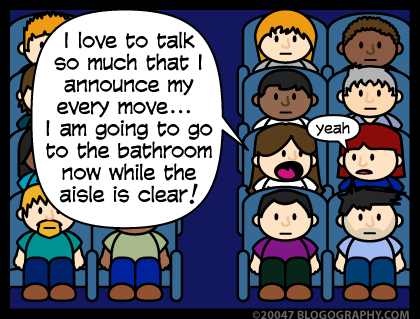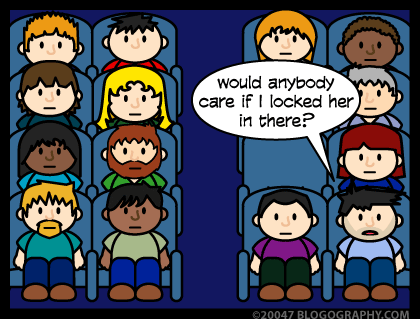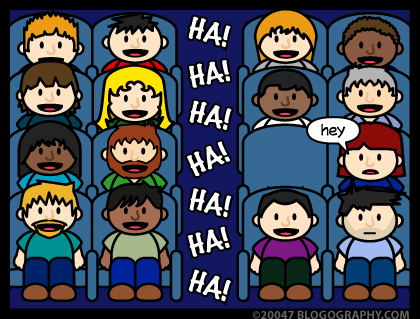 And you know what? I don't even f#@%ing apologize for saying it. Screw her and her big mouth, because NOBODY wanted to hear it. All we wanted to do was have a peaceful flight under cramped, horrible conditions, and I don't think that's too much to ask. Read a book. Watch the movie. Listen to music. Do whatever the f#@% gets you through those nine hours... AS LONG AS IT ISN'T BUGGING THE CRAP OUT OF EVERYBODY ELSE! Because blathering loudly about stupid shit while people are trying to relax or sleep or work or whatever is just making you an inconsiderate asshole.
• Vistahahaha... And while I'm on the subject of people saying stupid shit... has Bill Gates started smoking crack? I've been catching up with my news feeds, and have no other explanation for his recent bizarre comments. I guess when you are on the defensive, you'll come up with all kinds of crazy stuff to explain why a product that took TEN YEARS to release is so lame compared to the competition.
• Overhead... I love it when some dumbass comes rolling on the plane with his full suitcase, briefcase, lunch bag, AND carry-on, then starts demanding that people take their stuff out of the overhead bins so he can fit in all his crap... "IS THIS YOURS? YOU CAN FIT THIS UNDER YOUR SEAT!! COME ON! THAT CAN FIT UNDER YOUR SEAT!!" Yeah, well f#@% you buddy, I check my luggage and carry on my one measly little knapsack so I can have the much-needed legroom. Why don't you shove your massive roller-bag up your ass... or, perhaps, check it at the ticket desk so people don't have to listen to your bullshit.
• Stamp... Since my previous passport expired, I had to get a new one. Once again I have noticed how other countries have passport control personnel who carefully stamp your entrance and exit neatly into the square boxes and in sequential order. Why in the hell do USA passport control people decide to skip ahead 3 pages, then stamp your passport outside the boxes in the middle of the f#@%ing page? That page is then rendered useless, which is why frequent travelers like me end up having to purchase extra pages for our passports. I mean, you are stamping passports all f#@%ing day long, and you haven't figured out how to make it fit in the box? On the up-side, I have to say that my entry into the USA via Newark International was one of the quickest, nicest, most courteous immigrations and customs checks I have ever had. Bravo to the people at Newark who obviously have their shit together (except when it comes to getting the stamp to fit in the box).
• Security... I wonder what the penalty is for bitch-slapping a TSA agent? I don't want to end up in jail or anything, but I am getting sick and tired of their idiotic behavior. "DO YOU HAVE A LAPTOP IN YOUR BAG SIR? YOU NEED TO REMOVE YOUR LAPTOP FROM YOUR BAG, REMOVE YOUR SHOES, THEN REMOVE YOUR JACKET!!" Uhhh... okay... let me get to the table first... "YOU NEED TO REMOVE YOUR LAPTOP FROM THE BAG NOW SIR TO AVOID HOLDING UP THE LINE!!" Yeah, well, there are six people ahead of me before I can get to the table, and I'm not talented enough to juggle my laptop, jacket, and knapsack while trying to remove my shoes at the same time. If you want me to do all that crap sooner, get a longer f#@%ing table and stop riding my ass over something that takes me 20 seconds ONCE I GET TO THE TABLE.
And here I am in Seattle where I can post my entry and then sit around for four hours while I wait for my final flight home. Extended layovers suck ass.