Lisbon is a remarkable city and I absolutely love it here. Which is why it's strange that today I got the idea to create "The International Directory of Assholes" book. But more on that later.
My day began when I took a walk through the Alfama. This is the oldest district of Lisbon, home to winding little streets and clustered houses that spill down the slope of a large hill. And at the top of the hill is the Castle of São Jorge, which is where my day of tourist wanderings began. It's not a very impressive castle, but the panoramic view of Lisbon from the top is pretty sweet...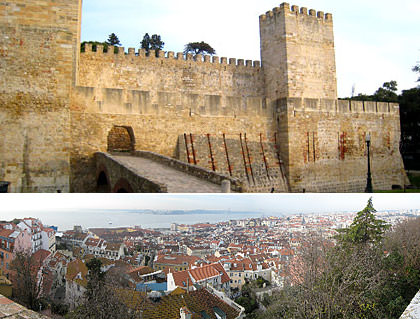 Since I arrived early in the morning, I had the castle pretty much to myself, which was kind of nice...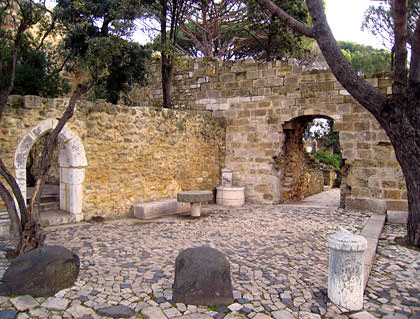 As I walked down the hillside towards the river, I noted a number of churches along the way. The most famous being the "Sé"... which is fairly simple by European cathedral standards, but still worth a visit...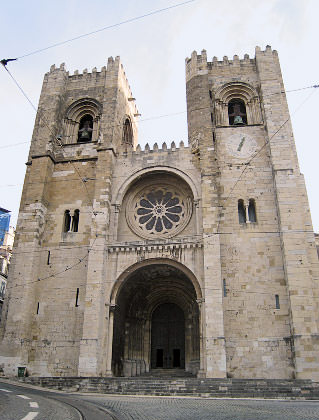 After I had worked my way out of the Alfama, I decided to take the bus along the shoreline to Belém. This is a district west of the city proper which is famous for being the place where many of the famous Portuguese explorers departed on their journeys (like Vasco da Gama). It is also home to one of Lisbon's most famous landmarks, "Monument to the Discoveries"...
All in all, there's 30 famous Portuguese historical figures running down both sides of the monument, each one remarkably detailed...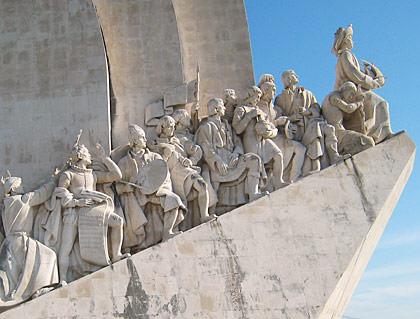 As you continue west, you'll eventually run across the Tower of Belém, which you can climb up and wander around. It was built to be fully-functional with canon armaments and such (despite its highly decorative nature)...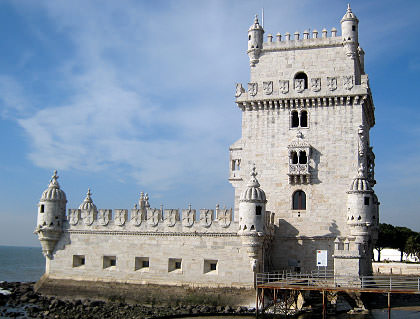 Backtracking along the other side of the roadway, I worked my way back to the Rua de Belém so I could drop by a pastry shop that's been selling little custard tarts for over 150 years called "Pastel de Belém." This is also the place you can visit the Archaeological Museum, the Maritime Museum, and the Jerónimos Monastery, which is pretty cool...
Inside, the roof of the Church of Santa Maria has a cool-looking spider-web design which is pretty slick...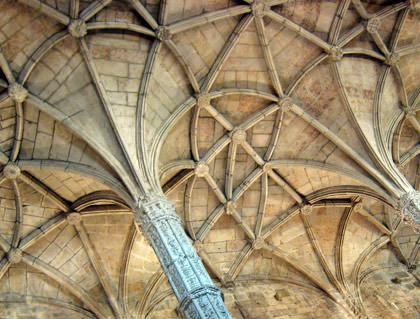 Before leaving the Belém district, I was sure to stop at one of Lisbon's most popular tourist spots... The Coaches Museum. It's kind of an odd idea for a museum, but it is interesting to be able to see all the ornate craftsmanship that goes into these rolling works of art...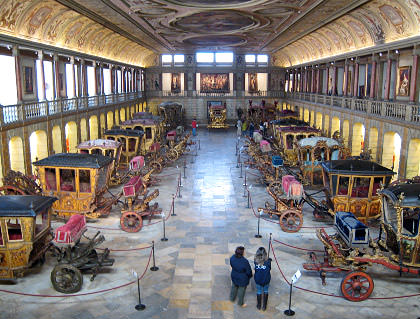 The remainder of my day (along with the reason for my new "assholes" book idea) can be found in an extended entry...
Half-way between Belém and downtown Lisbon is the National Museum of Ancient Art. I had heard lots of good things about it, and was anxious to take a look. The problem being that I didn't know which bus stop to use, and didn't have a map on me. After waiting for the passengers to all load up, I thought I'd ask the driver to please announce the stop. I had studied Portuguese years ago in preparation for a trip to Brazil (which never happened), and remember enough for simple conversation.
"Pode anunciar ponto de bus para Museu Nacional de Arte Antiga por favor?"
No response.
My Portuguese is far from perfect, but I'm certain my meaning was clear. Perhaps he didn't hear me?
"Anunciar ponto de bus para Museu Arte Antiga por favor?"
Nothing. Doesn't even acknowledge that I exist, despite my standing right next to him.
I come to the conclusion he must either be deaf or is forbidden from speaking to the passengers... until he strikes up a conversation with another guy seated at the front of the bus.
F#@%ing asshole.
Naturally, despite frantic looking on my part, he breezes past the proper stop because I noticed it too late to push the stop button. This meant I had to get off at the next stop and backtrack, which sucked ass.
I have no idea what his f#@%ing problem was (particularly since I took the trouble to make my request in his native language), but it's at this point I decide I should write a new book called "The International Directory of Assholes" — and fill it with those rare individuals who attempt to piss all over my otherwise terrific travels.
I mean, WTF?!? Was it really such a f#@%ing horrendous chore to announce a stop for me? Most everyone I've met in Portugal has been exceedingly kind and helpful... especially when I've made the gesture of trying to speak Portuguese with them. Why be such a complete and total asshole to somebody who is a guest in your country? Even if he had told me "no" he could at least have acknowledged that I exist. What a dick.
Anyway, the National Museum of Ancient Art was spiffy, so I guess it was worth the effort...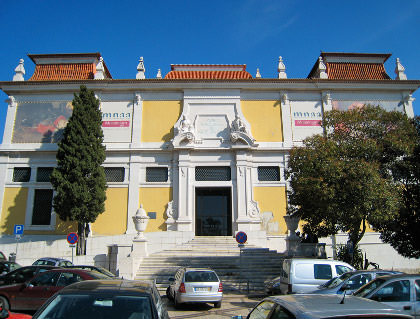 There are two other museums I want to visit before the day ends, but I am too hungry to skip lunch, and decide to stop at the Hard Rock along the way for some potato skins. While I am there, I note that a couple of guys at the table next to mine are asking about the SuperBowl. They are not Americans, so this immediately piques my interest since I know that nobody outside of the USA gives a crap about our version of "football."
If I understood correctly, the cafe was having a SuperBowl viewing party, and The Hard Rock manager(?) explained that he thought the pre-show would start around midnight (Lisbon time), and the teams playing were the Chicago Bears vs. the Indianapolis Colts. It was then that they two guys at the table said that they didn't care about the game, they just wanted to watch the "famous commercials."
Classic.
Anyway, I eventually make it to the Gulbenkian Museum (totally brilliant) and then rushed to the nearby Center for Modern Art so I can see that one as well.
This was a mistake. I realize modern art isn't for everybody, because its very nature is to challenge people's perceptions of what actually constitutes art, and can be a bit bizarre. But I have no problem with that. I appreciate that artistic expression can take many forms, and try to appreciate all aspects of the experience.
This being said, the Center for Modern Art is mostly filled with shit.
There were a few pieces I thought were okay, but most everything was just crap. Not even remotely interesting or challenging. I had to laugh at the fact that guards were posted everywhere, because nobody would want to steal this shit, and any attempt at defacing this "art" could only improve it. Oh well.
And thus ends my final full day in Lisbon. Sadly, I am not ready to leave this wonderful country, and wish I had more time to explore the surrounding area. I hear Sinta is remarkable.
Maybe next time.