• Lost is Lost... This morning I awoke to find a couple of emails from people pointing me to a story in The Washington Post about how Lost has plummeted in the television ratings and may be facing cancelation. I could try to act surprised, but what's the point? The show sucks ass. It was a brilliant concept that started out as a lot of fun, then disintegrated into boredom when the writers were either too stupid or too lazy to try and come up with cool new mysteries, choosing instead to drag out the same old shit... FOREVER. I mean, holy crap... I was pointing out this problem ALMOST TWO YEARS AGO, and I'm not even in television! Are the people running the show on crack? It's like a lesson in what NOT to do, where everybody sees the wreck coming except the people driving the bus. Next up... Heroes! Or will they learn from Lost's mistakes in time?
• Best Breakfast Ever... Snack-Pack Chocolate Pudding, five Golden Oreo cookies, and a glass of chocolate milk.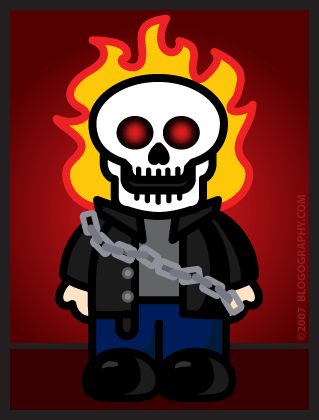 • Spirit of Vengeance... One of the cooler comic book creations, Ghost Rider, has finally been given the movie treatment starring long-time comic fan Nicholas Cage. And here's the thing... despite the shitty reviews, I enjoyed this film. Cage totally had a handle on the character, injecting humor where appropriate and not taking the role too seriously. The special effects were kick-ass. The story was entertaining. But, most importantly, there was enough action to keep things moving and the film was fairly faithful to the comics. What's not to love? It amazes me that reviewers are going to a movie about a flaming skeleton riding a motorcycle thinking it will be about something else, then are disappointed to find out it actually IS about a flaming skeleton riding a motorcycle. Well, duh. It's not supposed to be Shakespeare, it's just a cheesy popcorn flick. Taking it for what it is, I found it brilliant, and will be buying it on DVD.
• Not-So-Daily Show... Whilst clearing old shows off my TiVo, I ran across the October 26th, 2006 episode of The Daily Show which I've saved because it is one of my all-time favorites. Remembering that The Daily Show can be purchased at the iTunes Music Store, I thought I would just buy the episode so I could free up some space on my TiVo box. Well, it was a good plan, except that you can only purchase the last 8 episodes and nothing before that. WHY? I would think that one of the benefits of selling shows online is that you have a library of archived shows to offer for sale. Both The Daily Show and The Colbert Report have segments and guests that demand future exploration... why not offer them? Once again I am put in a position where my only option is to acquire the show "unofficially" — not by choice, but by stupid circumstance.
• Un-Trekable... Speaking of the iTunes Music Store... I was thrilled that the new "re-mastered" episodes of the original (i.e. "real") Star Trek were being offered for sale. Now, for reasons unknown, Paramount has withdrawn them. Which means last week's brilliant update of The Doomsday Machine and this week's beautiful tweaks to the classic Amok Time are nowhere to be found. WTF?!? So here I am, again, perfectly willing to pay money to get something I want, yet my only option is to hope somebody has uploaded it to BitTorrent. Oh well, T'Pring is a total bitch hottie at $1.99 or $0.00, so it's all the same to me. The only loser here is Paramount. Dumbasses. They will, of course, blame internet piracy for lost profits when it's their own stupid asses who are refusing to take my money.
• Six Meme... After avoiding the "Six Weird Things About You Meme" like the plague, Kyle descended like the Black Death and infected me with it. So here goes... 1) I don't like coffee or coffee-flavored products, which I don't think is weird, but others sure do. 2) I am perfectly happy watching the same movies over and over again... I've seen such films as EuroTrip, The Long Kiss Goodnight, The Fifth Element, and Bedazzled dozens of times. 3) I have written exactly one fan letter in my entire life... it was to 80's Atari Computer game programmer Tom Hudson, and I still have his kind reply stuffed in a box somewhere. 4) My love of all things Betty White is not a joke... I really do think she kicks ass, and am a huge fan. 5) I am a total comic book geek, and own over 12,000 of them. 6) Weirdest of all? I write in my blog every day and this is the one-thousand-six-hundred-and-thirty-fifth time I've done so. FINI) I'm breaking the rules by not tagging six people now, but I don't tag.
Three weeks until TequilaCon...