Wow. I just got back from watching Guillermo del Toro's motion picture masterpiece, Pan's Labyrinth. I already knew he was genius from his works on Hellboy and The Devil's Backbone... but this film exceeded even my loftiest expectations. It somehow manages to seamlessly blend a brutal reality with fantasy in a way that doesn't totally suck. If you can stomach the violence (and don't mind subtitles), it's definitely worth a look.
Taking place in Spain during World War II, Pan's Labyrinth is a little girl's attempt to escape the horrors of war to a fantasy realm that has perils of its own. Along the way she meets some interesting friends and even more interesting adversaries...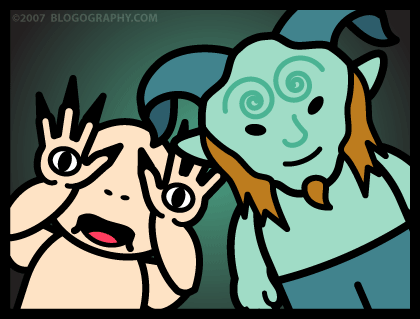 About the only negative was having to see the film in a theater filled with idiots which included...
A group of emo goth dumbasses who talked the entire time. Assumably because they were too f#@%ing stupid to read subtitles and too lame to just leave the theater and sit at McDonalds for ten hours.
Three rude whores resembling Jabba the Hutt who not only couldn't shut the f#@% up, but snuck in large bags of Doritos that they then crinkled constantly while stuffing their faces with chips.
One moron who wasn't able to drink without choking, and spent most of the film hacking up phlegm.
Two stupid bitches who had to go to the bathroom every 20 minutes... together. From their non-stop giggling, I can only guess they were snorting cocaine, blazing up on meth, or otherwise killing their few remaining brain cells.
Whatever happened to the good old days when you went to the movies, sat down, shut the f#@% up, and watched the film?
Speaking of "the good old days" — I find it amazing how the "remastered" special effects they're sneaking into the original Star Trek series has reinvigorated the show. I just finished watching a remastered The Doomsday Machine, and it was pretty sweet! The originals could always hold their own against any of the crappy Trek spin-offs that followed, but now they're at a whole new level of greatness. And, unlike George Lucas shitting all over the Star Wars trilogy, the people working on Star Trek are actually respecting the source material. The stories and spirit remain unchanged... the show just looks fresher.
If only we could do the same for Jennifer Love Hewitt's freaky bangs on the first season of The Ghost Whisperer.