Some total f#@%ing douchebag threw five kittens out the window of a moving car in Kirkland. One died at the scene, two were rescued, and two others are missing (and probably hurt, scared, or both). I am of the opinion that anybody this f#@%ed up should be shot in the head because, let's face it, if you torture innocent animals for kicks then you have no business living. Those who have no respect for life... any life... doesn't deserve it for themselves. If there is any justice in this world, this total loss of a human being will be tracked down and tossed out the window of a moving car into the path of an oncoming truck.
Deep breath.
Anyway, before I go tearing off to Seattle, I thought I would post my entry for the day because I don't know if I will have internet access. And since I've gotten quite a few queries as to how I go about drawing my "DaveToons" I thought I might as well write about the creative process that goes into each drawing for anybody who's interested.
STEP ONE: ROUGH SKETCH...
Once my entry has been completed, I determine if I need a toon to make my point, and decided how to best capture the imagery of the story I am trying to tell. I then rough out some sketches so that I can best make a selection. Usually this is a single toon, but sometimes more. For this example, I've selected the DaveToon which appeared here on August 3rd...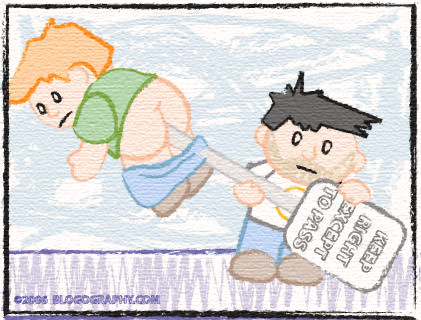 STEP TWO: RESEARCH...
With my initial rough sketch drawn out, I then scour the internet looking for photographic references so that my illustrations will be as accurate as possible. Since the toon I'm working on in this example shows an idiot getting a pole shoved up his ass, I'll spend considerable time hunting for photographs of street signs and asses so I can have a starting point from which to start drawing. Research is a critical step, and can take several hours if not days...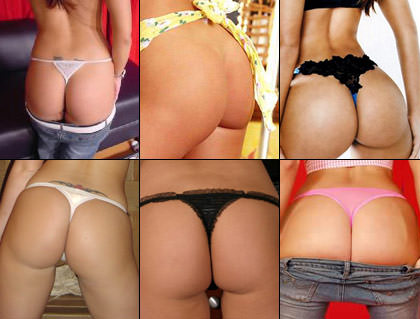 STEP THREE: COMPUTER RENDERING...
At this point, I often consult with a special effects house like LucasFilm's Industrial Light and Magic or an animation studio like Pixar for some computer-aided design work. This allows me to examine the scene from all angles and select the best vantage point to depict the action. This step usually costs tens of thousands of dollars, but the expense is well-worth the price because of the valuable insight I get out of the process. How deep does the pole go into the ass? At what angle does Lil' Dave have the best leverage? All of these factors are easy to calculate with a good computer model to work from...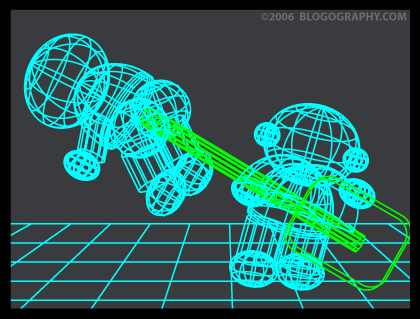 STEP FOUR: ILLUSTRATION...
Using my notes, sketches, photo research, and computer renderings, I then begin the actual drawing process using Adobe Illustrator. Every detail is painstakingly recreated using simple shapes (squares, circles, etc.) that are combined, stretched, warped, and sculpted. I then use the pen tool to redraw those areas where simple shapes don't properly construct what I am trying to draw. As an example, the ovals I used to illustrate the ass did not look as good as the photo reference I researched, so I have to redraw each cheek by hand...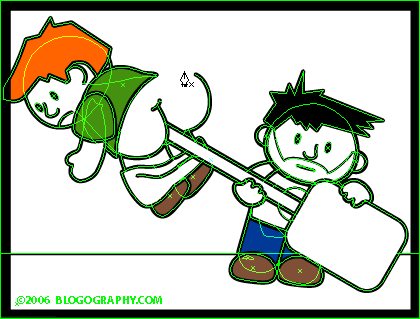 STEP FIVE: COLORING...
All that's left to do is pick colors for each part of the drawing and add any needed text. This is usually done as I go rather than waiting until the very end. That way I can be sure that colors which end up next to each other are distinct and work well together. Sometimes I'll use gradient shading to get a more 3-D look, but usually I don't have the time and have to resort to flat shading like I did this time...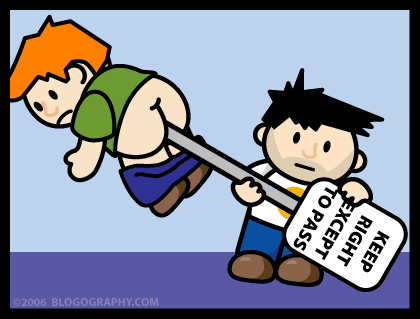 And there you have it! The actual drawing part takes about 5 to 10 minutes per toon depending on how much material I was able to re-use from older drawings. But once you factor in the research, computer design consultation, and brainstorming, the average DaveToon takes about three weeks to complete.
And why do I take such time, care, and expense to be sure each DaveToon is the best it can be? Because my readers demand it, that's why... the bastards!
Errr... except YOU. I'd never say that about YOU, because I just love YOU!