After a long day at work on a public holiday, I was looking forward to finally seeing Children of Men and going out to a nice dinner.
Unfortunately my favorite restaurant in Wenatchee (McGlinns) has, for some stupid-ass reason, decided to stop offering veggie burger substitutions on their burger menu. WTF?!? THEY'RE FROZEN!! How hard is it to keep a box of frozen veggie burgers in your freezer for those times you have vegetarian guests? Is that really too much to ask? Sheesh. It's inexplicable shit like this that causes me to abandon local haunts in favor of sanitized chains like Applebees. Hey, they may be a chain, but at least they don't f#@%-over their vegetarian clientele.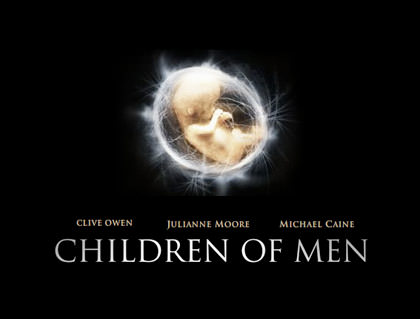 As for the movie... it was pretty freakin' amazing. I was blown away at some of the more shocking turns (of which there are several). It is now readily apparent why Children of Men is garnering such critical praise... it's relentless. And beautifully acted. And wonderfully shot. And skillfully directed. It's not a feel-good film by any means, but it is a film that will make you think. And feel. Just watching Children of Men is thoroughly exhausting, but in a good way. If you can handle the violence and a few meandering scenes, it's worth checking out.
Anyway, if you will now excuse me, I'm choosing to retire on this Martin Luther King Jr. Day by listening to a few of his speeches. So many of his words are as profoundly stirring today as they were when he spoke them, and I don't know whether I should be happy or sad about that. Happy, because it just goes to show that great words withstand the test of time. Sad, because if I were asked to name a "Martin Luther King Jr." for our day, I could not. Why is it that America's greatest voices all seem to come from the past?
Bleh. I'd feel a little less depressed about that if there was a new Veronica Mars on tomorrow night, but she doesn't return until the 23rd.