• Bullets... If I thought about it long enough, I'd probably be taking today's bullet points and shooting myself in the head with them. Yesterday was a disaster. My migraine kept getting worse and worse despite my taking The Special Pills. But The Special Pills just made me nauseous on top of feeling like my head was going to explode. So I was hurting and puking while trying to work, which did not make for a very productive day. Now I'm way behind, and will probably have to work straight through the next 36 hours. Still with a headache.
• Relationship... I finally managed to scrape together the money to pay off my "90-days-same-as-cash" Apple credit balance before the deadline. So I call to be sure that I have the pay-off amount correct (last time they tried to screw me by slapping on a $2 "billing fee," not telling me about it, then slapping me with $130 in accumulated interest). While on hold, a recorded voice kept telling me that a "Relationship Manager" would be with me in a moment. "Relationship Manager?" That sounds like somebody whom busy yuppies hire in order to work out their complex schedules so that they can find time to have sex. I don't know about you, but this is a much closer relationship than I am wanting to have with a bank.
• O RLY?... And, combining my first two bullet points, I am reminded of a time I attempted to build a relationship while battling a migraine headache AND being nauseated by The Special Pills. It all started when I was set up on a date with a girl who I really, really liked... but from a distance. I didn't know her very well at all. A mutual friend asked her if she wanted to go out with me, and she said something like "oh, he's funny!" and agreed. But, on the day we decided on dinner and a movie, I was hit with a huge migraine. Desperately not wanting to break our date for fear I would never get another one, I doped up on The Special Pills and went on my way. Dinner was painful. She talked and talked and talked about... well, nothing, really. My head was throbbing, and she simply would not stop talking. After paying the check I went to the bathroom so I could throw up. Then we drove to the movie with her talking all the way... I was SO looking forward to the film starting in anticipation of finally getting some peace and quiet. Alas, it was not to be. She talked through the entire film...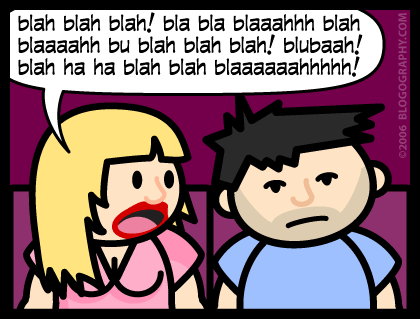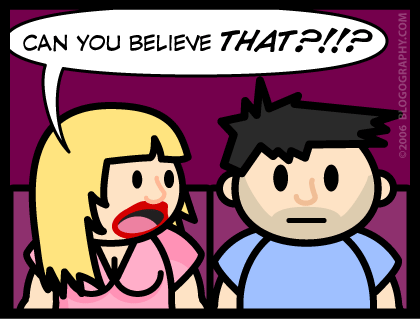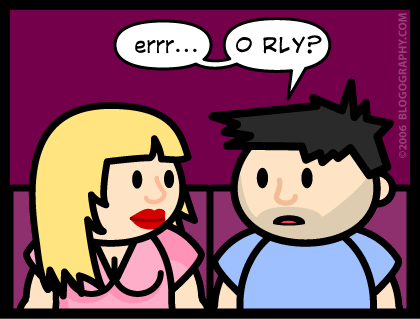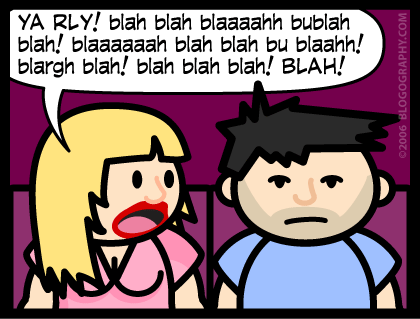 *Those unfamiliar with internet-speak can get an "O RLY" explanation here.
It was the longest night of my life. Puking in the bathroom was actually a hilight. The funny thing was that she thought the date went great, and asked my friend if I would be asking her out again. Sure she was fun to look at, but the thought of having to endure another night of her non-stop talking without guarantee of a sexual return was more than I could take. I didn't make just one excuse to get out of asking her out again, I made five.
• Hindsight... YOU IDIOT! Do you know how rare it is to find a woman who would be willing talk to you... AT ALL?!?
• Memes... What's with all the memes lately? This latest one comes from Neil, and I've put it in an extended entry...
Elaborate on your default icon. Default icon of what?
What's your current relationship status? Well, apparently I have a relationship with my bank...
Ever have a near-death experience? Yes. It's not something I talk about.
Name an obvious quality you have. Uhhh... I have two eyes... what?!?
What's the name of the song that's stuck in your head right now? Speed of Sound by Coldplay. Don't ask me why.
Name a celebrity you would marry. Gee... I dunno. Now that Elizabeth Hurley is getting married, I'd have to think about it. Yeah, it's Halle Berry.
Who will cut and paste this meme first? Whoever is the most bored.
Has anyone ever said you look like a celebrity? I've been told a couple of times when I was younger that I look like Matthew Broderick. I never saw the resemblance.
Do you wear a watch? What kind? I do not wear a watch unless I am traveling or attending an event where I need to be aware of time. At those times, I wear a beautiful Fossil watch that one of my best friends gave me at her wedding.
Do you have anything pierced? Not anymore.
Do you have any tattoos? Not yet.
Do you like pain? Uhhhh... what kind of stupid-ass meme has Neil gotten me into?
Do you like to shop? Not even a little bit. I've blogged about this many times.
What was the last thing you paid for with cash? Two bottles of Coke with Lime and a bag of Erin's Buttered Popcorn.
What was the last thing you paid for with your credit card? "Elebits" and "Zelda: Twilight Princess" games for my Wii.
Who was the last person you spoke to on the phone? Ben!
What is on your desktop background? It rotates with pictures of places I've been, but the one showing right now is here...

What is the background on your cell phone? An incredible rendering of Batman by Jim Lee. That's why I call my mobile "The Bat-Phone" (even though it sucks total ass, and will immediately be tossed in the garbage the minute I can get me an iPhone).

What was the last movie you watched? So embarrassing... I just watched EuroTrip... again. I've now officially lost track of how many times I've seen that film. Can't help it though. It makes me laugh every time, and I needed a laugh. Scotty doesn't know! Scotty doesn't know!

What was the last book you read? I re-read Watchmen for the hundredth time. What an amazing, amazing book. I find something new in it every time I read it.