It has been suggested that my frequent battles with insomnia may be a result of a bad mattress. This would not surprise me, because the mattress I bought is total crap. And I owe it all to letter-turning-game-show-sidekick Vanna White.
It all started when my old mattress was falling apart and I needed to replace it. So off I went to the local furniture store to buy one. But, once I got there, I realized that I don't know the first thing about mattresses and had no idea what I wanted. But then I saw a cardboard cut-out of Vanna White smiling over a mattress and decided to go for it. I figured that if the bed was good enough for Vanna, it would certainly be good enough for me (even though it was more money than I wanted to spend).
But Vanna was full of crap. The mattress was sagging in the middle after only a few months.
I'm pretty sure I'm not the only one who has been f#@%ed by Vanna White over a mattress, but I'm probably one of the few who hasn't enjoyed the experience...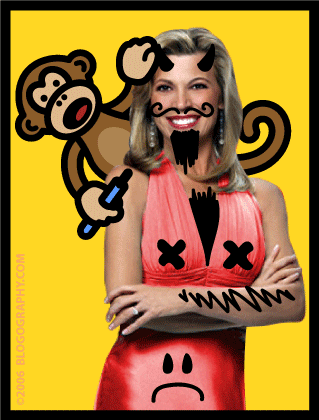 So here I am 10 years later needing to buy a new mattress. Again.
The one I really want to try is a Sleep Number bed. Since it is filled with air, it probably won't be sagging anytime soon. If it does, I'd imagine that you just blow it up again. Much like an inflatable companion (ahem... or so I've heard). Besides, Lindsay Wagner endorses it and she's all bionic and stuff! But then I read complaints about poor customer service and the air mattress filling up with mold and such, and start having second thoughts.
So now I am flirting with the idea of buying a Tempurpedic mattress.
Yet, I am hesitant because, well...
The following is a fictional account of events that never happened. Stories like this are far too embarrassing to be published on the internet if they're true, so it's not true. I'm making it all up...
Fictional Dave: (answering phone) Hello?

Fictional Former Girlfriend: Hey, I'm working late! Rather than driving all the way back home, let's just stay in town. I've booked us a room at "Inn At The Market" on 1st & Pine.

Fictional Dave: Cool. Call me when you're ready and I'll pick you up on the way.

(LATER THAT EVENING AT THE HOTEL)

Fictional Dave: (after having flopped on the bed) Whoa! This mattress doesn't bounce! It's weird!

Fictional Former Girlfriend: It's not weird. It's a Temperpedic mattress. After you get used to it, it's super-comfortable.

Fictional Dave: I still think it's weird that a mattress doesn't bounce when you sit on it.

Fictional Former Girlfriend: You're weird.

(STILL LATER THAT EVENING)

Fictional Dave: It's not me... it's this weird mattress! The foam... it's like... it's absorbing my moves or something!!

Fictional Former Girlfriend: (sarcasm) Sure it is.
So, as you can see, in the unlikely event that I ever need to use my new bed for something other than sleep... like...ohhhh... let's saaay... an exercise mat... it doesn't work so well.
But for actual sleeping it's pretty sweet, so I dunno.
Awwwww... maybe I should just sleep on the couch from now on. It's like an "exercise mat" for one.