The first email I opened this morning was somebody saying "You are a f#@%ing asshole and your blog sucks!" Ordinarily, I'd be thrilled to receive such well-written and thoughtful feedback, but this morning I wasn't in the mood. So instead of sending my usual automated reply ("Thank you so much for your lovely letter regarding Blogography, and I look forward to making you even more angry in the future!") I instead wrote back with this...
"Wow! You've figured it all out! I make my blog suck ON PURPOSE because, as you have so astutely surmised, I AM an asshole! Congratulations on your brilliance, and I hope you die real soon now so my secret will be safe!"
Then I got worried that by hoping somebody else is going to die, I might be wishing death upon myself, and suddenly became concerned about my health and well-being. Perhaps a diet of candy, chips, and Coke with Lime is just the excuse that irony is looking for to kill me off? Well screw that. I'm going to start eating healthier snacks!
So there I am at the health-bar aisle of the grocery store looking at the hundreds of healthy alternatives to candy. I am amazed at how expensive it all is. But what's money compared to my health? Nothing! So I scoop up an assortment of yummy-sounding bars, pay my $25 (holy crap!) and am on my way.
Once I get to work I decide to have a health bar for breakfast. GAH! IT'S HORRIBLE! HORRIBLE!! Dumbstruck at the foul taste in my mouth, I spit it into a garbage can while making a mental note to never buy that brand again. Then I try another one, AND IT'S EVEN WORSE! ACK!!! I PAID $2.99 for THIS?!? After spitting my fifth health bar in the trash, I'm screaming "OH LORD, WHY HAVE YOU FORSAKEN ME??" as I open up number six, which is called a "Bumble Bar."
Bumble Bar Almond still tastes outrageously bad but, compared to the first five I tried, it's at least edible. So there I am chomping away on gobs of seeds and sticks, trying my best to be happy at how healthy I'm going to be from all this suffering. At least I was, until I looked at the Nutrition Facts...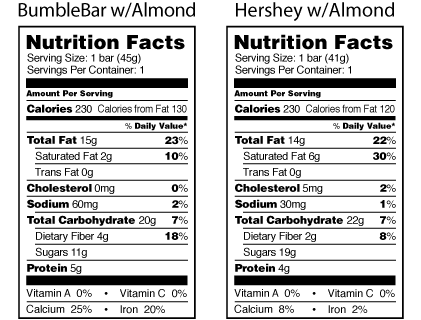 WTF?!?
Seriously, WTF?!? It's the same calories and fat content as a tasty Hershey Bar with Almonds! About the only difference is 2 grams more fiber, 4 grams less saturated fat, and an additional 18% iron!
Holy shit. Give me back my frackin' candy! I'll just eat a handful of Shredded Wheat for breakfast to make up the difference in fiber, and suck on a nail to get that extra 18% iron.
What really frosts my cake is that I could have bought FORTY candy bars for the money I paid for these ten "health" bars. This blows. The ones I threw out are probably healthier because they tasted worse, but I'd rather die than have to eat that crap for the rest of my life. Better to die young and happy from snacking on junk than old and miserable from eating disgusting health bars.
Maybe I'll just starting taking a vitamin with my first can of Coke with Lime of the day? That's probably the same thing anyway. Yes, thanks to vitamins, I can be healthy and still eat delicious crap! Modern science is great.
Yargh. Karma dictates I find something good to blog about now. Fortunately, I have a book that's totally sweet to talk about in an extended entry...
A while back, I received a wonderful self-published cartoon book about the Hindu deities by Sanjay Patel (who works at Pixar Animation Studios). After passing it around to dozens of people, it became a bit ragged and worn which was kind of a bummer, but I was happy so many people had been enjoying it.
Wisely, Peguin Books picked it up for publication, so I decided to purchase a fresh copy to have on my bookshelf. Today it finally arrived, and I was once again reminded what a cool little book it is...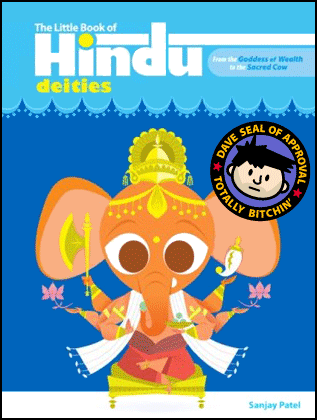 If, like me, you have trouble remembering Shiva's manifestations or can't seem to keep straight the ten incarnations of Vishnu... this is the book for you. Heck, even if you have no interest in the Hindu faith at all, I'd still recommend getting this book. Not only is it wonderfully illustrated, but it's endlessly entertaining as well. The various Hindu gods and goddesses all have fantastic stories of adventure, mystery, and beauty that can be enjoyed by anyone. Learning a bit about Indian culture and religion along the way is just the icing on the cake.

Hanging out with Kali and hoping not to get the measles.
When it comes to Hinduism, I've only studied the Bhagavad Gita, which is the most famous part of the epic Mahabharata. Reading Patel's cartoon book only makes me want to go further, but it's a daunting task (the entire text has got to be 2 or 3 times larger than The Bible). Fortunately, there are a number of English translations and abridgments out there, I just need to find one I like and get to it. In the meanwhile, "The Little Book of Hindu Deities" is a happy read that I'm very glad to have found again.
For more information on the book and to see some terrific sample pages, head over to Ghee Happy, which is Sanjay Patel's official site. You can buy the book from Amazon for just $11.50 by clicking here.