I've been watching my new Mission: Impossible... The Complete First Season DVD set whenever I can. It's amazing how well the series holds up after 40 years. I was totally addicted to the reruns when I was a kid, then hopelessly disappointed by the Tom Cruise films as an adult (M:I is supposed to be about TEAMWORK... TEAMWORK!). It's pretty sweet to see that the original show is just as good as I remember... and Barbara Bain is just as smokin' hot as I remember (literally, she smokes cigarettes constantly).
I've decided I don't feel like writing tonight. To explain myself, I offer this...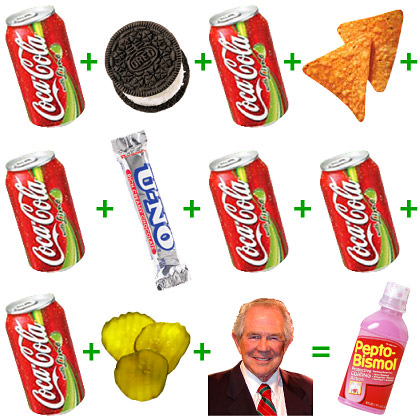 Why are people are still listening to this crazy asshole? If God is truly talking to Pat Robertson... how could he ever be wrong in his predictions? Wouldn't he have to be right 100% of the time for people to actually believe his shit? When he says "sometimes I miss" doesn't that imply that GOD is missing too? Or maybe... just maybe... he's a total nut-bag fraud. Anyone? Anyone?
Argh. Time for another spoonful of Pepto Bismol and bed.
But before I go... Over New Years, I reorganized and catalogued my DVD collection with a program called "Delicious Library." I've owned the program for almost two years, but never had the ambition to actually use it until now. I ended up loving the way it works so much, I've decided to review it in an extended entry...
When you are a DVD whore like me, it is sometimes hard to remember what you have in your collection. More than once I've been away from home when I catch wind of a massive DVD sale, place an order, laugh to myself at the huge bargain I just found, then discover I already own the DVDs I just bought when I get back home.
Enter Delicious Library.
This Macintosh-only program has won tons of awards and critical praise, and is the signature product of a company called "Delicious Monster." It can catalog your DVDs, Books, and CDs just like the hundreds of other "library" apps out there, but it has nifty-cool features that put it in a league of its own. And, if that weren't enough, it's beautiful to look at...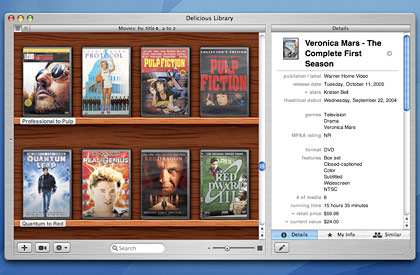 You can zoom out to see more of your collection, or zoom in to see a close-up view...
The "shelf view" renders each of your DVDs as keep-case covers (just like your CDs are rendered in jewel cases and your books are rendered as, well, books). It's probably more efficient to use the "list view," but the shelves are so cool-looking that I can't help myself. Mac users are accustomed to having beautiful software, but this is downright amazing.
But the hands-down most useful feature of this program is its ability to use your iSight camera as a bar code scanner! Just hold your UPC code up in-between the red "scan lines" and ZAP! Delicious Library goes out to Amazon and retrieves the artwork, description, and details...
This makes cataloguing even large libraries an easy chore, and keeping your collection up to date with new purchases is easy... all without having to buy a pricey barcode scanner.
Once your data is in Delicious Library, there's all sorts of things you can do. You can enter your personal review and rating for each item. You can manage borrowers to keep track of who has your stuff (and even automatically pop a due-date reminder into iCal). You can print a booklet of your collection or export the data in XML to use in other programs. You can even export your collection to your iPod's "notes" so you have a list of your collection wherever you go. The data handling in list view is highly customizable, and you can sort by any field you want (I find it interesting to view my collection based on my personal rating so I can see how many horrible one-star films I've somehow purchased for my library!). Still other tools allow you to see similar items for sale at Amazon (with all referral fees going to charity) or email item info to somebody so they can check it out. There's even a Dashboard Widget to search you collection without having to start up the program.
But the true miracle of Delicious Library is the price. Just $40. For software as full-featured and realized as this, that's quite a bargain. If only they could come up with a program for comic book collectors that could grab cover images and data from the Grand Comics Database. Hmmmm...
Sheesh. How is it when I decide I'm not going to write it ends up being a longer entry than on days I do?
UPDATE: Holy crap. That was quick... it's not by Delicious Monster, but it is a scanning comic book program!