Wah! My (usually) most-excellent web host, Media Temple, has been having problems all day. Sometimes you can get to Blogography, sometimes you can't. Sometimes you can leave comments, sometimes you can't. Do these people not realize who I am?? When my blog is down, the very fabric of the universe is in jeopardy!
After being buried in snow for the past week, today we get... rain. Lots and lots of rain.
On the roads that have been plowed, the rain isn't too bad. It helps melt away the bits of snow that are still hanging on. But on roads that are not plowed, everything turns to a giant slushy mess that's absolute torture. Driving in it is exhausting, because it's a minute-by-minute fight just to keep your car on the road.
Here's me driving home after dropping off some work for a client...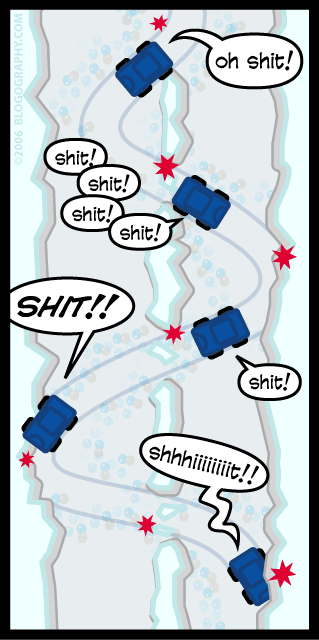 The even worse news is that I left my laptop power adapter at the office and was too terrified to go back and get it. This means that I can use what's left of my battery to either surf for lesbian porn... or write a blog entry.
And here I am.
SEE? SEE the horrible sacrifices that I have to make in order to keep YOU entertained? I'm totally giving up my nightly lesbian porn fix for this! And it's entirely possible that my site will be down and I won't even get to post this crap anyway!
One could assume that my dedication to lesbian porn must not be very strong if I would allow a little thing like slushy roads to keep me from retrieving my power adapter. Yet this is simply not true. I can always surf for lesbian porn using the browser on my mobile phone. Sure the tiny screen makes it difficult to tell whether I am looking at a naked breast or a peanut butter & jelly sandwich, but the roads are really, really bad. As in Clay Aiken "singing" bad. Or even David Caruso "acting" bad. Yes, that bad!
But the blog must go on.
And now I'm really hungry for a peanut & jelly butter sandwich...