I went and saw Babel tonight. It was an interesting film, but not very entertaining (that came later, when I got home and watched Harold and Kumar Go To White Castle on DVD again). I also bought Barack Obama's book The Audacity of Hope to read on the plane for my upcoming trip. I liked his first book, Dreams from My Father, and have enjoyed every interview and appearance of his that I've seen, so I'm looking forward to it.
Most importantly, however, I had a Veggie sub at Quiznos for dinner. Since people are telling me that ketchup and pizza sauce don't count a vegetables, I figured this would make everybody happy. My sandwich totally had lettuce, tomato, olives, and everything!
But going to Quiznos always raises a question. Am I the only one who sees Quiznos Bread Bowls and thinks of skeet shooting?
PULL!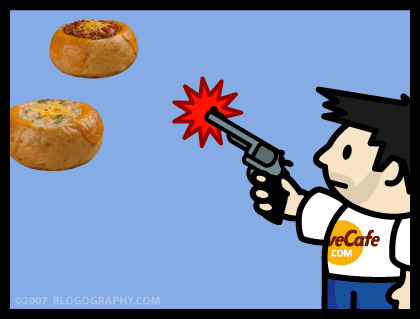 Bread Bowl Skeet Shooting would be totally sweet!
Lastly, in sadder news... for the past couple of days, my MacBook Pro's hard drive has been making crackling noises. I assumed this was a bad thing, and immediately backed up all my data. Then this morning half my files were inaccessible and the hard drive was grinding. Time to call Apple for some help.
What a difference good support makes...
Unlike my absolutely horrible experience with HP earlier this week, calling Apple for support is wonderful. It was so pleasant, that I almost forgot that my laptop was near death. My experience with AppleCare is absolutely everything customer support should be, which just makes me all the more enraged at HP. Let's compare...
| | | |
| --- | --- | --- |
| AppleCare | | HP "Support" |
| Respectful, sympathetic, and apologetic customer service agents. | | Customer "non-service" agents who laugh at you. |
| People who do everything they can to make sure you are taken care of. | | People who blame their customers for their mistakes, then do nothing to help you. |
| Knowlegeable reps who take care of your problems directly. | | Uncaring reps who keep transferring you from supervisor to supervisor... none of whom take care of anything. |
| Phone time to handle a major hardware malfunction and hang up completely satisfied: 12 minutes. | | Phone time to handle a minor product return that THEY mistakenly sold me: I gave up after 5 hours. |
| Total projected time to resolve said major hardware malfunction: 3 days. | | Total actual time to resolve said minor return: 4 MONTHS and counting... still unresolved. |
| Chance of buying another Apple product: 100% | | Chance of buying another HP product: not a fucking chance in hell. |
The nice thing is that the AppleCare guy promised that they would do everything possible to return my MacBook before I leave for Germany. And I totally believe him. I know... know that if it doesn't make it back in time, that it wasn't for lack of trying on Apple's part. I've never received anything but five-star support from them, and have come to expect nothing less.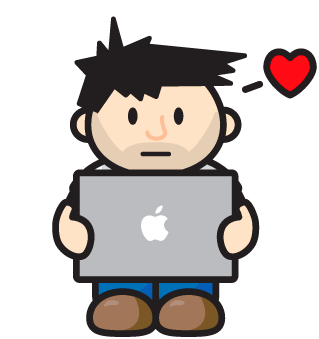 Apple loves me and takes care of me. It's not hard to love them back.