It is 4:30am on a Sunday. Using my brilliant math skills, I calculate that this means I've had 4-1/2 hours of unrest. I want to go back to sleep, but figure I might as well write a few bullets for Bullet Sunday first.
• Pudding. The reason I woke up at 4:30am was so I could go to the bathroom. And grab a Snack-Pack pudding (because there's nothing better to do in bed that blog and eat Snack-Pack pudding*). But this is no ordinary Snack-Pack... it's NEW "SpooNibbles" Snack-Pack. Each little container of chocolate pudding comes with a vanilla cookie that you can use to eat with. When you are done eating the pudding, you eat the cookie "spoon." It's the single most brilliant invention since electricity. I once accidentally grabbed a plastic fork for my Snack-Pack, but didn't notice until I was ready to eat it. Thanks to "SpooNibbles" you can avoid horrific experiences like this. I think more foods should come with cookie stick spoons to eat with. I'd totally eat crap I didn't even like if I knew there was a cookie at the end. I might actually even eat a salad.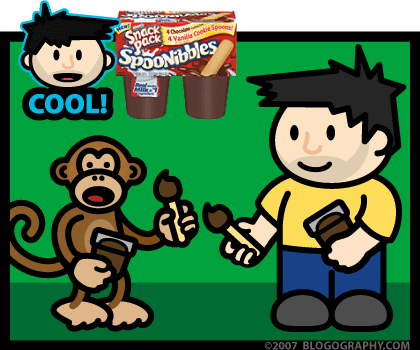 • Dated. You know how there are people with whom your entire relationship is based on a mutual hatred? And I'm not talking about politicians and Hewlett Packard... I'm talking about real people with whom you regularly interact. I don't have too many of these heinous individuals in my life, so imagine my surprise when one of them asked me out. Like on a date. It was really strange, because I had always just assumed she loathed me as much as I have come to despise her. Yet there she was. I guess that I am so totally lovable that even mutual hate can't keep people away from me. Using my brilliant math skills, I calculate that it has been 6 months since my last date. This gives me serious pause to consider actually accepting. Fortunately, rational thought manages to somehow overcome raging hormones, and I decline by telling her "oh, sorry... I'm leaving the country." In retrospect, this sounds like a lame blow-off excuse, and I feel kind of bad about it. Even though it happens to be true.
• Veronica. I am receiving mixed signals about the fate of the best show on television: Veronica Mars. I received a flurry of emails telling me that Veronica had been cancelled in favor of a Pussycat Dolls reality show (where they will apparently be searching for a new Pussy). It sounded just typical enough of network television to be true, so I did some digging and found a statement saying that Veronica was just moving away from Tuesdays, and wasn't cancelled at all. This made even more sense, because previous statements had said Veronica was given a nearly-full-season order. But now I read an actual news story which says Veronica is taking a "breather" in favor of Pussycat Dolls after February sweeps, and will then return after with the final five non-serialized episodes of the season. This is not a cancelation notice, but it might as well be. CW network f#@%ers. How in the hell are people supposed to get into a show when you keep moving it and pre-empting it for shit? I mean, it's not like I am against the hot bitches of Pussycat Dolls having a television show, but to pre-empt Veronica Mars for this crap? Seriously?
• Bedridden. It's 5:30am now. After three bullet-points and a half-hour of blog surfing I am going back to bed, where I fully expect that I will lay awake staring at the ceiling until it's time to go to work. My life sucks that way.
• Uh huh. It's now 7:30am. Just as I expected, I didn't get any additional sleep. Instead I thought about how happy I would be if the Pussycat Dolls were to die in a fiery plane crash and the idiots at CW Network had no choice but to order additional episodes of Veronica Mars to fill the sudden gap in their scheduling plans. I then thought of how I would be even happier if the Pussycat Dolls were to crash their plane into Hewlett Packard so they BOTH perish in a big ball of fiery death. The fact that I am wishing death upon my enemies usually has me sleeping like a baby, but not today. Hmmm... what if Jared the Subway Sandwich Whore was visiting Hewlett Packard when the Pussycat Dolls' plane crashed into it? Bitter tragedy or poetic justice?
• Madness. In addition to Barack Obama's book, I'll also be taking my Absolutely MAD: 50+ Years of Mad Magazine DVD-ROM. I already have some comics on DVD, and was pretty happy when I found out MAD was getting a similar treatment. The first issue I was exposed to was the "Star Wars Musical" issue from 1978. I then became an addict, buying all the MAD books and magazines I could afford until Don Martin left the publication in 1987. With Prohias already gone, it just felt like time. Re-living "my" MAD's glory years and being able to see most everything that happened before and after for only $40 is pretty cool...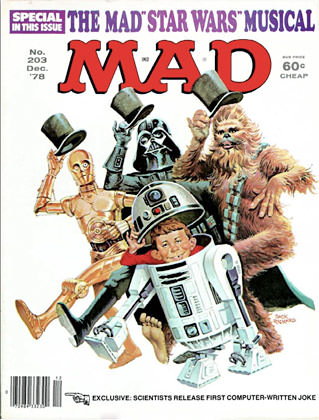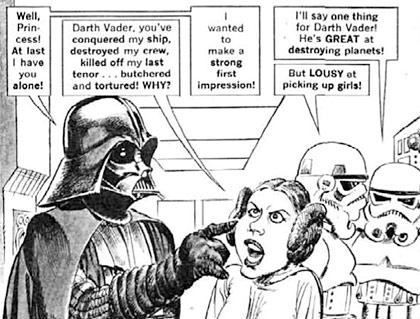 • Hands. Yesterday while washing my hands in Quizno's bathroom, I saw one of those signs that said "EMPLOYEES MUST WASH HANDS BEFORE RETURNING TO WORK! - LOS EMLEADOS DEBEN LAVAR LAS MANOS ANTES DE VOLVER AL TRABAJO!" "No shit!" I said to myself. Then I laughed, because that's the whole point.
Bah! Time to go to work...
* Actually, there are plenty of things better to do in bed than eat Snack-Pack pudding and blog, it's just that it's been so long since I've done anything else there that I forget what they are.