Gah! I guess that the other crap I was going to write about today will have to wait...
The bitches over at Bette Midler Online have retaliated against Cupid being in 1st place on the Sony DVD poll! What I find funny is that these people are voting for Bette! simply because Bette Midler is in it... not because it was a great show or anything. Personally, I don't even remember the show... but when I research it, I find out that it was not well-liked, even by Bette Midler fans. so WTF? Cupid, on the other hand, was critically acclaimed, and could have built an audience had ABC not totally f#@%ed up the scheduling so people couldn't find it. Case in point... out of a possible 10 stars on the Internet Movie Database, Bette! garners 3.6 stars, whereas Cupid has twice as many... 7.3 stars.
I maintain that Cupid is the best show ever to air on television, and explain why in this entry.
In any event, If you love me... heck, even if you hate me, you'll please take ten seconds and go to Sony's NEW & IMRPROVED poll for DVD releases, where you now only have to vote for ONE show instead of choosing two other crappy shows to go with it... IN THE NAME OF ALL THAT'S GOOD IN THE WORLD, GO VOTE FOR CUPID RIGHT HERE RIGHT NOW!!!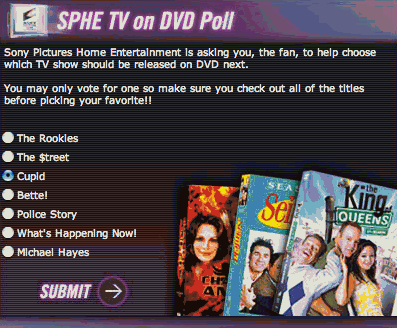 Did you vote? YOU DIDN'T?!? DO IT! DO IT NOW!!!
There. That's much better. Cupid got to the top once, it can be there again with your help.
Good news on the AppleCare front... despite the fact that I called on a Saturday afternoon with my MacBook Pro hard drive problem, my return-box from Apple Support arrived today. Amazing. If nothing goes sideways, I'll have my laptop back before I leave. Loves me the Apple. It makes the fact that Hewlett Packard couldn't get me a freakin' return-label after THREE calls over TWO months (and untold hours on hold) all the more pathetic. HP sucks ass.