James has tagged me with the "Three/Three Christmas Meme" where you have to list three things you would like for the holiday, and three things you wouldn't. I don't really celebrate Christmas, but that's not to say I would refuse a present from Santa if he were to give me something.
I've seen this meme around, and most of the time people are selflessly listing lovely things like "world peace" as an answer. As desirable as this might be, it's totally unrealistic. Instead of mucking about in fantasyland, I've instead decided to list things that are realistically obtainable.
So, without further ado, here are three things I would like for Christmas...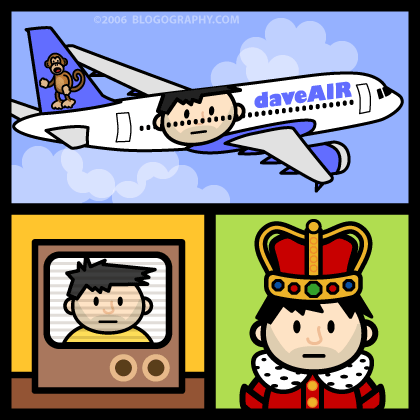 My own television network and fifty billion dollars start-up capital... Nothing pisses me off more than television networks who end up with totally brilliant shows, but then cancel them because they are too f#@%ing stupid to know what to do with them. DaveTV would feature only the best programming with NO commercial interruptions, NO station identifiers in the corner of the screen, NO pop-up advertising, AND NO F#@%ING EARLY CANCELATIONS!! Every show creator would be guaranteed a minimum number of shows to tell their story, and viewers would never have to worry about falling in love with a show only to have it canceled before the story ends. The first thing I would do is offer Rob Thomas, Jeremy Piven, Paula Marshal, and Jeffrey D. Sams a million dollars an episode to bring back Cupid, the best show ever to air on television, as the cornerstone of DaveTV's schedule. Ooh! And Wonderfalls. And Dead Like Me. And... and... and...
My own airline and a hundred billion dollars start-up capital... Okay, there is something that pisses me off more than television networks, and that would be airlines. Flying now-a-days is a horrifying ordeal with cramped seats and nothing to do. DaveAir would be totally different. You'd pay a little extra, but you'd have comfortable seats with actual leg-room. The schedule would be a little restrictive, but there would be free internet, movies, video games, and plenty of magazines. Flying with DaveAir is like a vacation before your vacation.
My own country and a trillion dollars start-up capital... I would probably be happier if I could just take my television network and my airline and set up shop as king of my own country. That way, I could just make everything be exactly how I want it to be, and not have to worry about dumbasses screwing everything up. An island archipelago paradise with lots of beaches and sunshine would be a great location for Davenia.
And here are the three suck-ass things I would NOT want for Christmas...
Any book by Ann Coulter.
Any CD by Clay Aiken.
Any DVD with an appearance by David Caruso.
And there you have it. I'd link to an Amazon wish-list so any billionaire readers who are feeling the holiday spirit could buy me something... but, alas, Amazon doesn't carry television networks, airlines, or countries.