I love panoramic photography, but the cameras required to take good panorama shots are really expensive... $3500 minimum. About the only affordable option open to me is to take a bunch of pictures and then stitch them together using Photoshop or some other utility. The problem is that the results are never that great. Things never quite match up and you end up with Frankenstein-type collages that won't fool anybody...


Even worse, every time you want to make a pano in Photoshop, you have to fire up the "Bridge" application which sucks ass. And even with "advance blending" and all the other stuff turned on, you still end up with a composite that has mismatched buildings and poor blending (which is kind of hard to see when I shrink it down)...

Until now.
The new Photoshop CS3 Beta has an incredible new panorama stitcher that does an amazing job without the need to fire up Bridge. Not only does it warp and stretch to get really accurate edge matches, but it also shifts the color to make everything blend beautifully (even when viewed at full-resolution). It has me going through all my old photos to see how they stitch up...


Chicago Skyline, Illinois


Harbor in Reykjavik, Iceland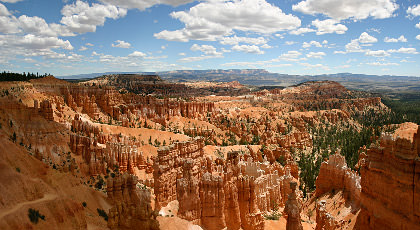 Bryce Canyon, Utah

Bryce Canyon, Utah


Bryce Canyon, Utah


Goblin Valley, Utah


Goblin Valley, Utah
In fact, the stitching abilities built into Photoshop CS3 are so mind-boggling cool and easy that I find myself looking at the world as a series of panoramas. I can't wait to take more of them.
New Photoshop is fun.
In totally unrelated "new" news... I received an email alerting me to new DVD releases that had The NEW Adventures of He-Man on the list. This puzzled me greatly, because I never knew that there were any NEW adventures of He-Man. After some serious Google investigation, I discovered that there was indeed a second series way back in 1990.
But look what they did to the poor bastard...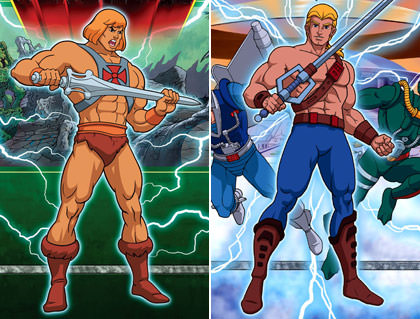 What the f#@% happened to his tan?
You can't be having no pasty-ass He-Man!
Despite the totally butch name and kick-ass physique, He-Man has never been a particularly macho dude. Maybe it was the little pageboy haircut or something. But he was tan. Now they've taken that away from him. And it's not like a ponytail and hot-pants did anything to up the testosterone quotient. He-Man looks like he's starring in a gay pirate movie.
This is just sad.
Not that there's anything wrong with gay pirate movies. It's just that He-Man shouldn't be starring in them.
Unless He-Man actually is gay, in which case I feel I owe him an apology or something. Maybe new He-Man is just being who he really is? He's out, he's proud, AND he's got the Sword of Power?
Just don't tell me that he's f#@%ing Skeletor, because that I could not take.