I seem to have survived my bout with food poisoning (or whatever).
Which is probably a good thing, because my most excellent web hosting company Media Temple, is moving Blogography to a new "grid server" here in a few hours. I don't understand much of what's happening, but it all sounds very cool and interesting. In any event, I totally trust Media Temple with my life. Out of the dozens of hosting companies I've dealt with over the years, they are the very best... by far.
I am told that there will be some down-time for a bit while the move occurs. So, if you try to visit Blogography and can't, that's why. And if you are coming here after not being able to access the site, that's why.
Many thanks to Bad Robert for the use his pick-up truck "The Blue Bitch." we couldn't have gotten everything moved without her...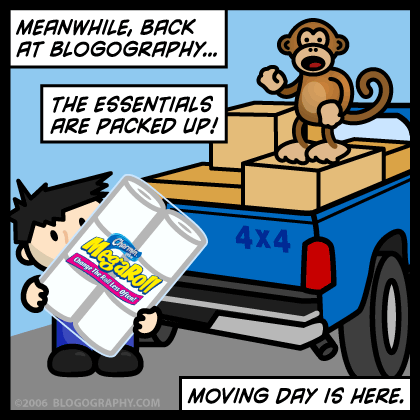 Please forgive the urine stains in the passenger seat. Bad Monkey had a fifth of vodka with a two-liter bottle of 7-Up for dinner and forgot to go to the bathroom before we left. I made sure there was plenty of toilet paper in case we had to stop along the way, but he didn't tell me until after the deed was done. You know monkeys...
UPDATE: Well that was amazing. The move went flawlessly with no data loss and everything ending up in its proper place. I then set about changing all my blog settings and scripts to point to their new address... only to find that Media Temple had already done it. And not just in the obvious places, like my Movable Type blog software, but also in not so obvious places like my Mint stats package. I simply cannot say enough good things about Media Temple for web hosting. Brilliant company. Terrific service.