Live from Wisconsin — IT'S BULLET POINT SUNDAY!
• TIMELY! Much to my shock and awe... and despite the weather problems plaguing Seattle and Chicago recently... every one of the three flights I took today was on-time. It's probably one of the best travel days (connection-wise) I've ever had, even though it started at 3:45am.
• COLD! It is unbelievably ass-numbing testicle-shriveling cold here. As I drive down the road, the heater cannot keep up with the freezing temperature, so you roast where the heat comes out and are chilled to the bone everywhere else. I don't handle the cold well at all, so I am understandably miserable most of the time.
• CAMERA! My Canon S400 compact camera has been a piece of crap since day one, and today it finally stopped working altogether. Since every other Canon I've ever owned has been awesome, I'm chalking this up to bad luck and will probably be buying a new Powershot SD800 tomorrow to replace it (known as Ixus 850 outside the US). Traveling without a camera... even to places I've been dozens of times before... makes me feel naked. I simply must have a camera in my pocket to feel whole. The nice thing about this model is that it has true optical image stabilization, which will hopefully help diminish the number of blurry photos I take...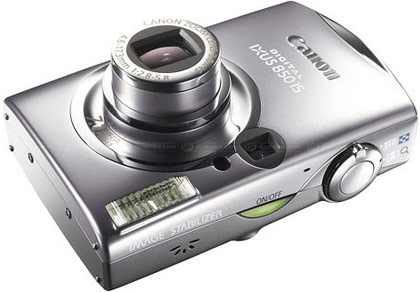 • DOLLS! Now that they've released a "Doctor" Laura talking doll to go with the Ann Coulter talking doll, the "Hypocritical Dumbass Whore Talking Doll Line" is nearly complete...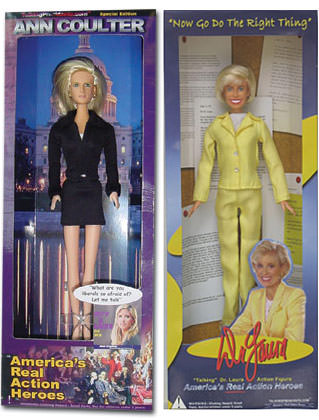 All we're missing is Rush Limbaugh and Bill O'Reilly.
• GEOGRAPHY! A foreign reader of Blogography questioned my calling Wisconsin, Illinois, and Ohio "The Midwest" when, if you divide the USA in half, the "midwest" would be Montana, Idaho and such. This may be true geographically, but the various regions of the US are influenced by historical factors as well. I admit that not everybody divides up the nation the same way but, in general, the way I cut it up here is more-or-less considered correct...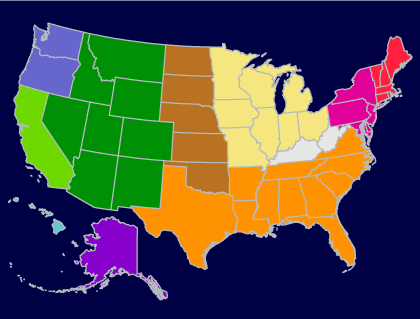 New England... This was the area first settled by English Pilgrims, thus branded "New England." Includes Maine, Vermont, New Hampshire Massachusetts, Connecticut, and Rhode Island.
The Mid-Atlantic States... The middle states of the Atlantic Ocean seaboard. Includes New York, Pennsylvania, New Jersey, Delaware, Maryland.
The South... Also known as "The Bible Belt," these are the states which formed the Confederacy during the US Civil War. Includes Virginia, North Carolina, South Carolina, Tennessee, Arkansas, Georgia, Alabama, Mississippi, Louisiana, Florida, and Texas. In modern times, Florida and Texas are sometimes excluded from the generalized region of "The South" and considered regions of their own. This region is sometimes sub-divided into "The Deep South" which is mostly a religious distinction (and includes Alabama, Arkansas, Louisiana, and Mississippi).
The Midwest... There was a time when everything west of the Appalachian Mountains was considered "The West." Later, everything west of the Mississippi River was branded "The West." From these earlier days, "The Midwest" was considered to be Minnesota, Wisconsin, Michigan, Ohio, Indiana, Illinois, Missouri, Iowa, and Minnesota. The label stuck, even though now-a-days it is not really accurate.
Kentucky and West Virginia... If these two states have a regional affiliation, I don't know about it. Perhaps they're part of a "Great Smokey Mountains" region or something but, from what I can tell, they are region-free (and no doubt proud of it).
The Great Plains States... A geographic area which includes North Dakota, South Dakota, Nebraska, Kansas, and Oklahoma... NONE of which I have visited!
The Rocky Mountain States... Another geographic area, this time with Montana, Idaho, Wyoming, Nevada, Utah, Colorado, Arizona, and New Mexico.
The Pacific Northwest... A term generally attributed to Washington and Oregon, but some people also include Idaho (which I don't). Home to TEQUILACON 2007, baby!!
California... Widely considered to be another world entirely, California is a regional distinction all its own. Though, when you marry it to Washington and Oregon, it becomes part of the "Pacific States."
Alaska... Some people erroneously pile this state in with "The Pacific Northwest" but I think most everybody (especially Alaskans) would argue it is a region all its own.
Hawaii... A state so remote that most any regional affiliation is pretty much impossible (though it, along with Alaska, are on the Pacific Ocean with the other three).
• GOODNIGHT! A full day of travel after three hours sleep has left me exhausted. It's 9:30pm in my new time zone, so I'm using that as an excuse to call it a day.