w00t! VERONICA MARS SEASON THREE HAS BEEN EXTENDED FROM 13 to 20 EPISODES! That's two less than a "regular" season, but far better than not being extended at all. Now if only they would offer the episode for sale at the iTunes Music Store.
I hit a major snag in animating my music video last night. I was playing test footage and suddenly realized that I was very unhappy with the composition of the clips. The characters are all kind of short, so I always ended up having to zoom way into the scene in order to avoid having big gaps at the top and bottom of the frame. This has everything looking claustrophobic and makes Lil' Dave's world seem so small...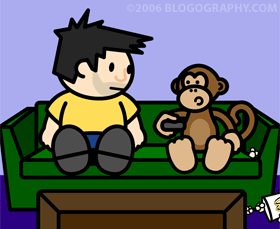 This is very bad, because there's no way to center in on the action when the entire screen is moving. At first I was just going to reduce all the elements by 85%, but that was even worse. The action was just a blob in the middle of the screen.
It was then that I decided to just bite the bullet and recompose every shot in HiDef...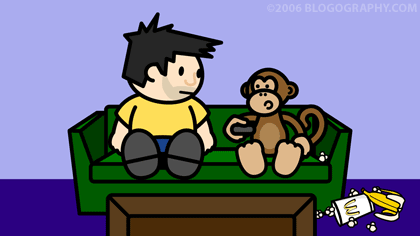 Suddenly all of my problems disappeared. Not only that, but widescreen allows so many more interesting options for scene composition... clips that were kind of boring and hard to follow actually end up looking interesting. The bad news is that all the work I've done so far has to be thrown out, recomposed, and partially re-animated. This was upsetting at first but, after I realized it was an opportunity to make things better, I was okay with it.
Except for the jungle scene. The thought of having to go back and re-draw those backgrounds fills me with dread. Just one of them took five hours, and now they're twice as big.
Argh. When did having fun become work?