Gaaah! It's the revenge of the bullet points!
• ZOON DOOM! Uh yeah... saw Zune, played with Zune, pitched Zune to the curb. The iPod has nothing to worry about here. The only thing that I'm envious of is the larger screen, everything else... from the clunky looks to the crappy software... sucks ass. Once Apple finally gets off their ass and gives us an iPod with a decent size display for video, Zune will be nothing more than a bump in the road. Yet another failed catch-up effort that doesn't measure up. You'd think with billions of dollars in the bank, Microsoft could innovate rather than keep imitating. Badly.
• COUCH BANANA! Scene No. 4 has been animated. Bring on the dream sequence...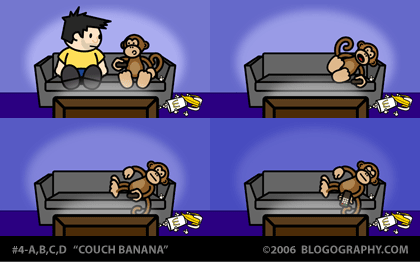 • MEEEEEEEEAT! Many of the vegetarians I know (and all of the vegans) are sickened by the smell of cooking meat. I don't have that problem... I'm totally indifferent to the smell, though I'd rather do without if given the choice. On the way home from work tonight, somebody was barbecuing steaks and the aroma filled the air. Much to my surprise, it smelled so good that I very nearly had a carnivore relapse. It was all I could do to keep from running off howling into the night, hunting down that grill so I could tear into yummy cow flesh. Instead I had a can of Coke with Lime and some Pop Tarts. Yeah, that hit the spot.
• GOLDEN GLOBES! Elizabeth Hurley was looking her usual perfectly hot self in Berlin this week...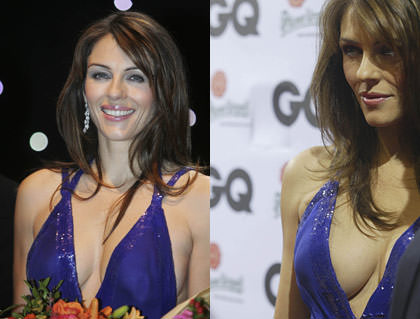 • WII-DUNDANCY! How sad is it that people stand in line to buy Nintendo Wii consoles and Sony PlayStation 3 consoles so they can sell them on eBay instead of letting the people who actually want to play them buy them? Though it's hard to blame anybody for doing it... a PS3 can net you $1000 minimum profit, whereas a Wii gets you double your investment. I wish that manufacturers wouldn't launch until they have plenty of supply built up so this crap could be avoided. Now I'm going to have to wait until I hear some kid bragging about getting a Wii so I can break into his house and steal it.
• BROTHERS & SISTERS! Tonight is a fresh episode of a show I never thought I would watch called Brothers & Sisters. When I first heard of it, I was intrigued because of the amazing line-up of talent behind it. I'm a sucker for good acting, even if it's in a weepy family melodrama...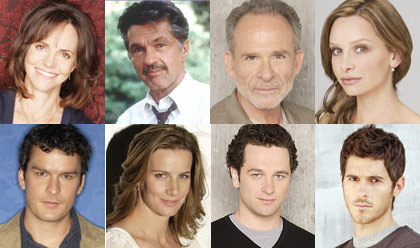 The show revolves around a woman (Sally Field), her dead husband (Tom Skerritt), her brother (Ron Rifkin from Alias), and her five children... Calista Flockhart (Ally McBeal), Balthazar Getty (also from Alias), Rachel Griffiths (Six Feet Under), and two guys I never heard of. When I first saw the cast, I thought "who are the two poor bastards who are going to try and hold their own against that kind of star power?" Turns out exactly the opposite is true. The two unknowns (Matthew Rhys and Dave Annable) actually have the best characters. But it's Annable's totally f#@%ed up "Justin Walker" that is the most challenging role on the entire show. Last episode he reached the breaking point, and I've been waiting all week to find out what's going to happen next. I hope it was worth the wait.

Now can somebody please tell me where I can buy a Mayor Adam West Cat Launcher? Seth McFarlane is genius.