Time for your bullet-proof vest... SUNDAY IS HERE!!
• Cars! I never managed to catch Pixar's latest film Cars while it was in the theater. Now that I see how beautiful it is on DVD, I'm really regretting it. Because, while I had a hard time buying into a world populated entirely by automobiles, it was just so amazing to look at that I didn't care. Every detail was painstakingly represented and, if you've ever seen a NASCAR race, the track action was superb. The icing on the cake was the top-notch voice acting by Owen Wilson, who convincingly conveys a surprising emotional range as race car "Lightning McQueen"...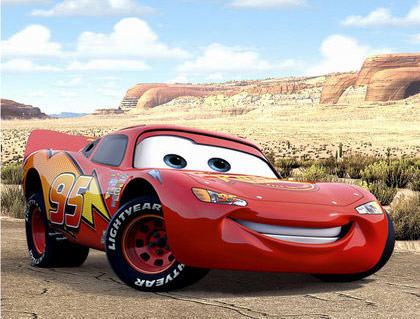 Awww... cute! It's an adorable talking race car!
I still don't think that the Pixar cars are as clever as the Aardmann cars for those Chevron commercials (is it just me, or do the Pixar cars all look cross-eyed?)... but this film does have the benefit of being the only funny thing I have ever seen "Larry The Cable Guy" associated with. It's no Toy Story or Monster's Inc. but still a lot of fun (unlike John Tucker Must Die, which was a boatload of crap and one of the worst movies I've seen in recent memory).
• Stats! Last month my "unique visitor counts had dropped for the first time in years. Now they've jumped by 36,000 for late October/early November... I guess people just love a monkey eating urinal cakes.
• The Office! For a while there I was getting really tired of Steve Carell's constant idiocy in the Americanized version of The Office but, after seeing his brilliant performance in Little Miss Sunshine, I decided to start watching again. Now I'm like a teenage girl, because I find myself saying things like "OMG! Isn't Jim and Pam going to be like the cutest couple ever?!" And who thought I would ever feel sorry for Roy? Oh well... I am so totally in love with Jenna Fischer now! She was great on Letterman, and looked brutally hot compared to her frumpy character on the show.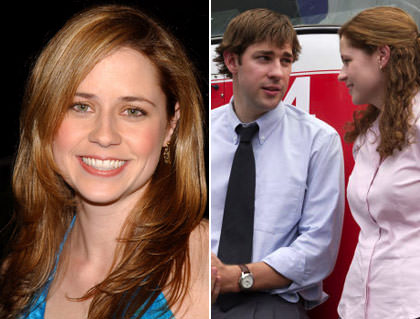 Awww... cute! It's an adorable talking girl!
Now I'm mad that I stopped watching! They sell episodes at the iTunes Music Store, so I'm going to have to shell out some coin and get caught up.
• Lost! And on the other end of the television spectrum... I've been complaining for months about what a suck-fest Lost has become after that brilliant first season. Unlike excellent shows like Veronica Mars which wrap shit up and move on to something better... Lost just lingers on, never providing a payoff. Now I notice that more and more people are feeling the same way, including this article at New York Magazine. I don't know if it is the writers, producers, or network that are insisting on being so frakkin' stupid, but if things keep going like this the show will be cancelled before they ever bother to answer anything. What a waste of time. But that seems to be typical for television lately.
• Veteran's Day! It was my intention yesterday to write a Veteran's Day entry but, given the drama of my dying PowerBook, I didn't get around to it. Even so, there's never a wrong time to be grateful to those who have served...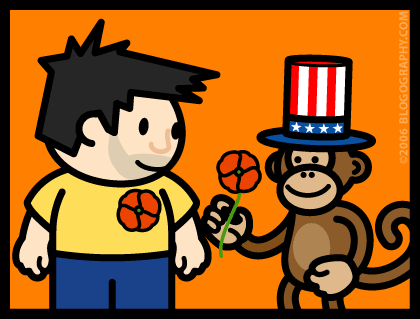 Bad Monkey's new best friend: Buddy Poppy
• Sucks Less! Several people have brought to my attention that Sucks Less with Kevin Smith is now being streamed via Flash for Mac users. You can check it out right here. The Smith intros are pretty funny, though some of the actual clips in the show are kind of lame. Something that is NOT lame is Clerks 2 which is finally dropping on DVD in a mere 16 days. Time to start watching all of my Kevin Smith DVDs so I am ready to go.
And on that note, I'm off to work. Monday deadlines blow.