This has been one weird-ass day. It started out with my PowerBook totally dying and my visual identity stolen, then ended up with me running out of butter and nearly strangling a bitch at the market.
Throw in a bottle of Jack Daniels and you've got Christmas.
My PowerBook doesn't want to acknowledge that a power adapter is plugged in, nor does it want to charge the battery. I have to say, compared to my previous PowerBook (the amazing titanium model I love more than life itself) this aluminum PowerBook has been a total piece of crap from day one. Shitty stiff & "chirpy" keyboard, mooshy trackpad button, blotchy screen, aluminum finish improperly anodized and flaking off, a dented case courtesy of The Apple Store Genius Bar, and now a power problem. In my twenty years as a Certified Apple Whore who has owned dozens of Macs, it is the single worst purchase I've made. Hopefully Apple's usually spiffy repair service will fix things up for me, because this sucks ass.
So I drag my sweet titanium PowerBook out of moth-balls so I can check my email and get some work done... only to find out my visual identity had been stolen. It would seem that some dumbass took my photograph and slapped his name on it in a forum of some kind. A girl grabbed the photo, saw that the name of the file was "davehair.jpg" not "Kevin" as she was expecting, so she Googled it and found... me.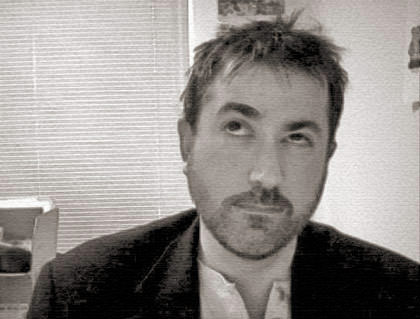 Yeah, this time it's really Dave!
So there goes an hour of my life while I get that mess sorted out. Yet it does raise the question... how desperate do you have to be to use MY picture? Sad.
Then, after several productive hours spent working, I decide to make dinner... only to find out I am out of butter. And since you can't make much of anything without sweet, creamy butter, it's off to the market I go. Within two minutes, I've got my butter and am heading to the "12 Items Or Less" lane so I can get home and eat.
Except there was some bitch complaining that she didn't get the right price on items she bought the previous day. This meant that the checkout guy had to run to the back of the store and bring back the sign showing that the "two for one" sale was for the SMALL tub... not the LARGE tub of ricotta cheese she purchased. He tried to explain it to her, but the rude whore was talking on her mobile phone which delayed things even more. To top it all off, she couldn't find her wallet and had to use a credit card for a $3.23 purchase... but had to place yet ANOTHER call to talk to somebody about it. Meanwhile, a line of pissed off people are having to wait on her stupid ass. Something that should have taken two minutes has now stretched out into ten.
And that's the thing about rude bitches... the world revolves around them, no matter how idiotic they may be.
Meh. I should have stopped off on the way home and bought that bottle of Jack Daniels.