As I've said many times, I am not a Democrat or a Republican or a Libertarian or whatever else is out there. I research each candidate or issue and place my vote independently of which party is attached. I've done this for at least a decade, and have probably voted for an equal number of Republicans and Democrats over the years which, in retrospect, is simply a matter of choosing the lesser of two evils. In truth, I think both parties are more interested in advancing their agendas than serving the people they represent. I don't know whether that makes me a pessimist or a realist, but it's how I feel so I don't really care.
This election was a little different for me because I am just so frakkin' tired of the continuous stream of shit that's been flowing from politicians lately. Democrat or Republican, it makes no difference... I'm just disgusted to the point of insanity over the mess this country has become. With that in mind, my vote this year was intended to do nothing more than send a message of my complete and total dissatisfaction with how things are being run. Apparently a lot of people felt the same way...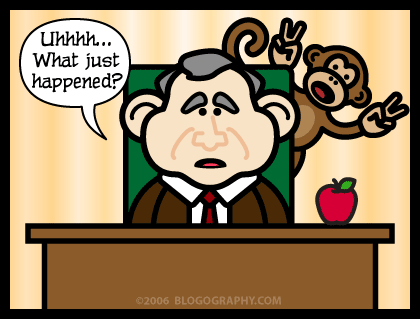 Hopefully he'll get the message eventually.
In the end, I try not to get political on my blog because, well, I don't really have any politics. But I feel it is unfair to be critical of something without offering an opinion as to why. So, if that kind of thing interests you, I've commented on some hot-button issues in an extended entry.
Bush: I am not a President Bush hater. I am most certainly not a President Bush lover. It's much worse than either of those things. I completely and totally have no respect for the man. None. I thought I could at least respect the office he holds, but even that has proven impossible. The minute he made jokes about starting a war while the troops he so ineptly commands are fighting and dying far from home, I had nothing left to give. People who join the armed forces are volunteering to give their lives for this country, and deserve far better at his hands. And yet he feels somehow justified about attacking John Kerry for recent remarks he made to the same effect. It's this kind of stupid hypocritical shit that drives me insane. Kerry, Bush, and everybody else who feels like exploiting our troops for politics should shut the fuck up. Seriously.
Healthcare: The state of health care in this country is horrible to the point of tragedy. This is not something up for debate, it's a fact. Yet, Republicans and Democrats are doing nothing... NOTHING... about it. They'd much rather fight with each other over stupid shit like this. Meanwhile, a ton of money is being wasted on incomprehensible crap that ends up meaning nothing. We are the wealthiest nation on earth, yet people go sick because they can't afford medicines or to go to the doctor. That's some pretty fucked-up shit right there.
Oil: How much fighting and dying has to take place over oil before somebody decides we should be looking for a better solution? I'd have thought that this was a no-brainer, but so long as big oil companies have politicians in their pocket, the shit is never going to happen. Instead, we'll just keep subsidizing an industry that continuously makes record profits... all at the expense of citizens whose dire needs are ignored. The technology exists... try dumping money there so you don't have to end up dumping it into things that will only bring us more trouble.
Community: The United States of America is not the entire world. Other sovereign nations actually do exist. So while I am all-for the USA protecting its interests abroad, to do so continuously at the expense of our place in the global community is insane. Rebuilding our relationships with the rest of the planet is not just something nice to do, it is absolutely critical to our survival. I remain completely baffled as to why more people aren't concerned about stuff like this. There must be a sale at Wal-Mart or something.
Education: How anybody could possibly think that education should not be a top priority is beyond my ability to fathom. The fact that education has a miniscule budget compared to our military speaks volumes about how screwed up our priorities are as a nation. Good teachers should be paid massive salaries and have the respect that educating the future of our country deserves. Bad teachers should be held accountable and fired. Colleges should be free to any citizen with good enough grades to attend. If we were doing our job, that would be everybody. EVERYBODY.
Contribution: Nothing pisses me off faster than my tax dollars being spent on assholes who are too lazy to contribute to society and want their entire lives provided for. If you have the ability to work for a living, you should be required to do so before collecting any benefits. Period. With this in mind, the government must provide work for those who need it to claim their benefits... whether this be painting a fence at a State Park... or handing out edibles at a food bank. There is no money for nothing. At least there shouldn't be.
Taxes: I understand the inherent problems that a flat-tax brings (if you do the research, it's not quite the perfect solution most people make it out to be)... but I still think it's a better solution than what we've got. If not a true flat-tax, we should at least have much more simplistic tax laws that people can understand. As it is now, it's all an incomprehensible mess with loopholes and shady areas that make little sense. The money spent on actually paying our taxes and enforcing their collection could be much better spent elsewhere.
Government: Representing the people who have elected you should be a privilege and a service. Providing for the needs of your fellow citizens should be paramount in everything politicians do. As such, travesties like pork barrel politics of any kind should be a criminal offense. Allowing your vote to be bought by any private individual or entity should be grounds for public execution. Campaign finance should be banned utterly. Lobbyists should be eliminated. Politicians should be elected based solely on their merits and not how much money they have. Forums for candidate debate should be publicly funded and freely accessible with no outside intervention. The government belongs to the people, yet it's simply not that way because it's bought and paid for by people with deep pockets. Dissolving the antiquated two-party system that keeps anything meaningful from being accomplished would be a good start.
That should be enough politics for the rest of the year. Tune in tomorrow when Bad Monkey tries to learn how to dance...