For as long as I can remember, I've been in love with animation. When done well, it's an art-form that's in a class all its own. The problem is that creating good animation is incredibly difficult. Every second of the project takes anywhere from 8 to 24 drawings, and each of those drawing "frames" has to transition perfectly from one to the next in order to look smooth and natural.
Sure there are computer programs that can help with some of that, but there are certain kinds of movement which look best when hand-animated, and there are no shortcuts that will give you good results. When I decided to create a monthly animated cartoon program called "Dave's Bad-Ass Blogography Show," I did not know this. I thought I could create a few simple images, shove them into the computer, and have perfect animation pop out. Sadly, this was not at all the case, and it will be a while before I have time to devote to a show like that.
In the meanwhile, I still have an overwhelming desire to create a cartoon of my own.
So I decided to animate a short music video. Nothing fancy, just a simple exercise to find out what it takes to have Lil' Dave and Bad Monkey running around doing crazy stuff for 3-1/2 minutes. As of today, I have been putting in two hours every night for over a week and have completed a total of 10 seconds. It would appear that even a simple music video is exceedingly time consuming and difficult.
I don't plan on posting any footage I've created until the project is done, but I do have a couple test shots I worked on a few months ago while I was story-boarding. The very first thing I animated was a jumping monkey (which I used here). After that, I wanted to do something more complicated and created a disco monkey...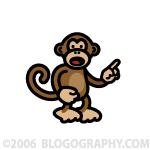 He's not bad, but his left arm has some freaky jumps going on and his right hand needs to be doing something. A month after that, I was tired of monkeys and had moved on to something a bit trickier (which is here).
About a week after that, I worked on a "raise the roof" move for Lil' Dave...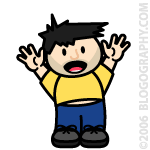 This was the first piece of footage that I was fairly happy with, and the first bit to actually end up in the video (all two seconds of it). It's only eight frames, but took three hours to finish.
Tonight I plan to take a break from the tedium of animating characters and work on backgrounds. The video has eighteen locations (so far) and every one of theme needs to be drawn. I have no idea how long that's going to take.
Why couldn't I be obsessed with something easy?