The Pacific Northwest has been slammed with torrential rains for the past several days. In my town, for example, one of the two major bridges into the city has been closed because the river is running so high. Seattle is getting hit even worse, and the TV news is replete with scary pictures. This made driving back from Seattle a bit of a challenge yesterday, because the rain made for low visibility and the water was pooling on the roadway. Hydroplaning at high speed sounds a lot more fun than it really is.
As usual, the worst part of the drive wasn't the weather.
It was the other drivers on the road.
The remainder of this entry is brought to you by the word FRAK.
So there I was exceeding the weather-mandated posted speed limit of 45 miles per hour (I was going 55). I was passing a car that kept speeding up and slowing down, and just wanted to get by. It was then that some asshole in a dark grey Lexus LX07 came zooming up on my ass... AND STARTED FLASHING HIS BRIGHTS AT ME! What the frak? This isn't the frakkin' Autobahn, motherfrakker! I was EXCEEDING the speed limit AND PASSING SOMEBODY you frakkin' dumbass! So you can take your flashing brights and shove them straight up your frakkin' ass. This idiot had better pray that I never contract some terminal disease, because I've memorized his license plate number and have added him to my List of People I Fully Intend on Hunting Down and Killing Before I Die.
Speaking of The List, we have yet another addition...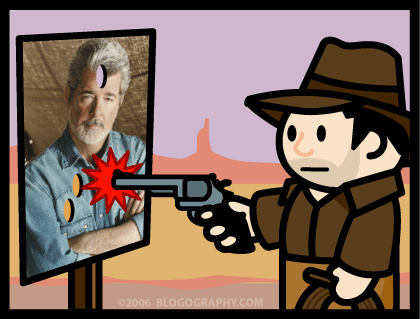 Three-time Oscar nominee Frank Darabont, who was tapped to write Indiana Jones IV, has finally spilled the beans as to why we haven't yet seen the film... George Lucas didn't like his script. Apparently Steven Spielberg absolutely loved it (calling it the best draft he's read since the original Raiders), but Lucas nixed it.
Yes, the person whose last three films were the craptacular piles of shit known as Star Wars: Episodes 1, 2, & 3 has passed judgement over a script beloved by one of the greatest directors of all time AND the guy who wrote the screenplay adaptation for The Shawshank Redemption (not to mention having the experience of a bunch of Young Indiana Jones scripts under his belt).
Frakkin' unbelievable.
Which is pretty much how one could sum up the mid-term elections here in the USA. I wonder if somebody is getting the frakkin' message?
Sigh. It's raining again, which is kind of a bummer. Though I do like the sound of it on the roof as I fall asleep.