Given my dead power adapter this weekend, Bullet Sunday is a day late... and this time, it's gone gay! "Queer Sunday on Monday" I'll call it...
• Neil Patrick Harris! First George on Grey's Anatomy announces he's gay, and now Barney on How I Met Your Mother has done the same. The strange thing is that it hasn't been exactly a secret. I only visit online gossip sites rarely, yet I've read the stories for years. I've just never cared...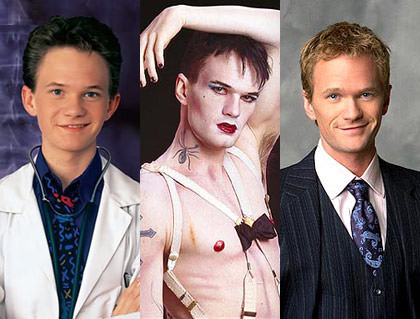 Yeah, there's that in-between period that kind of gave it away...
He's an actor, and he's great, so he can play any character he wants to play and I'm just glad he's out there (and OUT there). This doesn't change my enjoyment of Barney on HIMYM at all, just like it didn't change anything for George on Grey's. It's called ACTING.
• Pet Shop Boys! The first ever Pet Shop Boy concert in Seattle was... interesting. Their music consists of Neil Tennant's singing, Chris Lowe's keyboards, and not much else. Because of this, a simple recital concert would get boring pretty quickly. At the other end of the spectrum, an overly-extravagant production would overshadow their thoughtful, pondering songs. Wisely, the Pet Shop Boys decided to hit somewhere in the middle with a kind of art-show performance piece. The stage backdrop is a huge white cube that can be reconfigured in a variety of different ways (and to compelling effect). Other than that, they've got a few dancers, singers, and cube-movers thrown in for good measure...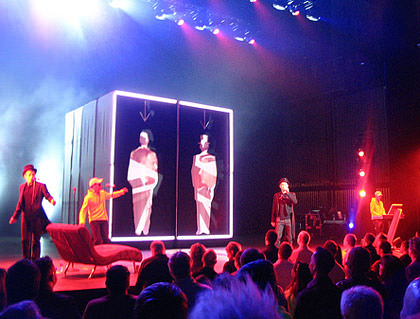 Photo taken from the very excellent Rock 'n' Roll Star!
Going to the concert was kind of a last-minute decision, so decent tickets were expensive (but the front-row, first balcony view was awesome in Seattle's Paramount Theater). I didn't want to go alone so I asked a friend to come along... she's not a fan, but had a good time (it's entertainment everybody can love!). Overall, the show was brilliant, and I am totally psyched that I finally got to see Pet Shop live. Most every song was flawless, and their only mis-step was a sappy acoustic rendition of the otherwise excellent Home and Dry (which is a favorite). The INTERESTING thing about the concert was the audience... which was almost entirely gay men. It was much like what I'd imagine a pride rally in San Francisco would be like (but without the costumes, parade floats, and glitter), and raises the question: at what point did all the 80's synth-pop I love become totally gay? I could have sworn it was only partially gay back in the day. Anyway... for more terrific photos and a nice wrap-up, head over to Rock 'n' Roll Star, who did a much better job of talking about the concert than I did.
• Midnighter! The nastier half of the very cool gay-super-duo of "Midnighter and Apollo" (of The Authority fame) has his own book! As if the awesome Garth Ennis doing the writing wasn't enough, they got the brilliant Chris Sprouse for the artwork on the new Midnighter comic...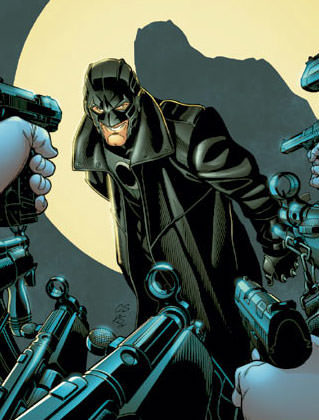 You've been a bad, bad monkey...
It is an amazing, ass-kicking read and will absolutely go on the top of my reading list each month. If Batman isn't tough enough for you, this is the book to get.
• Rev. Ted Haggard! I hope you get to burn in the hell that YOU YOURSELF HAVE CREATED for gay men and women everywhere you lying hypocrite. You've been condemning homosexuals and working overtime with President Bush to restrict the rights of gay Americans for something YOU do. I don't find the fact that you've been caught paying for gay sex ironic, "reverend," I find it pathetic you stupid asshole...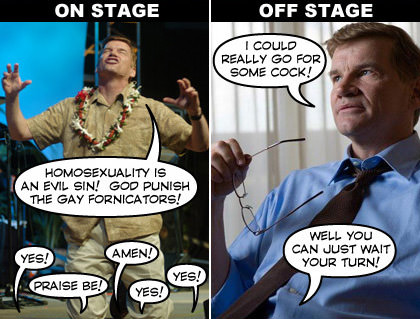 Hypocrisy, thy name is Ted...
The truly sick part of this is that now he'll go into seclusion and, with spiritual help, "cure" himself of his "sinful" homosexuality and probably make millions on a book deal where he can renew his gay-bashing on an entirely new level. Now THAT'S ironic!
Tomorrow Blogography returns to its regularly-scheduled bullet-free programming...