Years ago I was with my mother at the check-out lane of our local market, and heard the bag-boy say those classic words for the very first time: "paper or plastic?" It was memorable to me because my mother had thought they were asking if she was paying with cash (paper) or credit card (plastic). Once they explained that they were actually asking whether she wanted a paper or plastic BAG, my mother ended up sticking with the paper sack because it was all she knew. It didn't help that the plastic bags were so thin and flimsy that they looked as if they would fall apart on the way to the car.
And she was not alone.
Nobody wanted the plastic bags.
Every time I went to the store I heard "paper or plastic" again and again, but noticed that the paper sack was always chosen. This must have been depressing to the store, because the plastic sacks were so much cheaper, yet they sat there unused. But one day we went back to the market and there was a display at the checkout counter. They had a plastic bag filled with the heaviest of groceries being suspended from a hook. It was made even more impressive by the fact that they had slashed holes in the bag with groceries poking out everywhere... but it still did not break. So, even though they looked a more fragile than the paper option, the plastic was actually quite a bit tougher.
After that, everybody started asking for the miraculous plastic bags that could effortlessly hold lots of crap (and had convenient handles built-in). Sure there were people who still didn't want the "new-fangled bags" but they were in the minority, because everywhere you looked shoppers were walking around with plastic. The future of shopping had arrived.
Besides, they're fantastically useful. I'll bet there are a million things you can do with plastic shopping bags!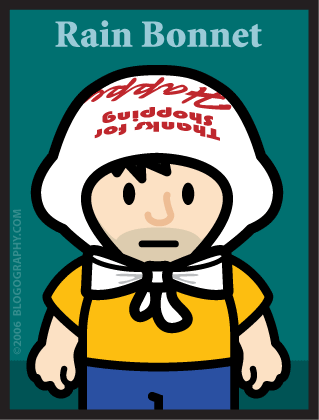 Paper bag manufacturers tried to compete by adding handles, water-proof coating, and other stuff... but it was too late. Plastic had won the war, and there was no going back. Soon it was increasingly rare to see any paper bags at a grocery store. Why bother when everybody is going to want plastic anyway?
It was then that paper bag fans (and manufacturers, I'd imagine) started getting upset. "PLASTIC BAGS ARE BAD FOR THE ENVIRONMENT!" they would scream. At least they did until studies were released that said plastic bags had a slightly less damaging effect on the environment (surprise!)... but it didn't matter much because BOTH paper and plastic were ultimately a bad thing (environmentally speaking). The best solution is to re-use a cloth bag over and over again (no surprise there). Sadly, hardly anybody bothers to do this. After all, what would they put their garbage in if they didn't get their plastic grocery bags? In Ireland you have to pay a fee every time you use a plastic bag... maybe if that happened here, people would come up with a more eco-friendly solution. Oh well.
Flash-forward to today and paper bags are making a kind of comeback. Upscale markets are using them again not because they are cheaper or better for the environment... but because they're "cool." I suppose the "perceived ecological friendliness" of paper must be a factor as well, which I find kind of funny.
Especially today when I was in line behind some Birkenstock-wearing hippy bitch at the grocery check-out.
"DON'T YOU HAVE PAPER BAGS?!? PLASTIC IS BAD FOR THE ENVIRONMENT!! she bellowed. The cashier apologized but, alas, he had no paper bags. "WELL THAT'S JUST GREAT!" she yells... her face scrunched into an eternal scowl. She then collected her shopping (which included a gallon of milk in a plastic jug, and various other environmentally-hostile containers) and went stomping out the door...
... WHERE SHE PROCEEDED TO HOP INTO HER OLD BEAT-UP CADILLAC ESCALADE, WHICH PROBABLY ONLY GETS 12 MILES PER GALLON, AND DROVE OFF INTO THE SUNSET!
I guess in this case "hippy" stands for "hypocritical?"
Sigh. Maybe it's the rain, but I really want to bitch-slap just about everybody today.