I'm not a very good blogger because I don't really write for an audience. When I sit down to create my daily entry, I just hammer out whatever pops into my head and don't really think about whether or not people will want to read it. The fact that anybody ever does is a source of constant amazement to me. That's why I never know how to feel on those rare occasions when somebody feels the need to tell me what I should or shouldn't be writing here.
Because, well, seriously... it's not like anybody is paying me for this. I'll write what I want to... even if it means there will be a periodic entry about wiping my ass or some other strange crap.
But I got a curious half-dozen emails asking me how I was creating my animation, and wanting to know everything from what tools I draw with to how I come up with my ideas. Rather than keep answering each one separately, I decided to just go ahead and answer them all at once in an extended entry. In addition, I'll post an occasional sketch, storyboard graphic, or frame of animation as a teaser for what I'm up to. It's not something I had planned on (because I don't want to spoil the surprise) but it's kind of nice to have some feedback every once in a while.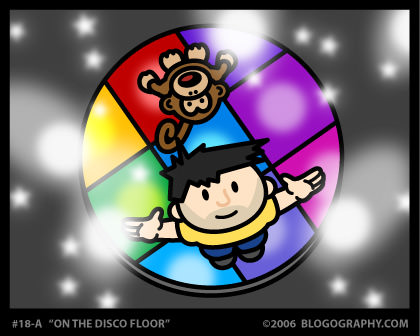 So, if this kind of stuff interests you, by all means carry on reading. Otherwise, tomorrow I'll be back whining about something else.
THEORY...
Once my big plans for doing a monthly "DaveToon Talk Show" had to be pushed back, I still wanted to do something with animation. At first this was going to be a fake television commercial for DSN (the Dave Shopping Network), but eventually I settled on doing a music video instead.
Deciding what to animate and which song to choose was a daunting task. An unwise selection of either would cause no end of frustration, and nobody wants that. The original song I picked had lyrics that I would use to tell a story, but I was worried that my inexperience would cause problems when I was forced to animate something I didn't know how to do. So I put that song aside for next time, and picked a different song that was more open to interpretation so I could just draw whatever I wanted.
One thing I very much wanted to do was animate a variety different things so I wouldn't get bored. This meant creating a story which had dozens of different locations and scenarios. There are scenes underwater, on a pirate ship, in a jungle, and many others... even on the moon! By taking Lil' Dave and Bad Monkey to places they've never been before, it will be a more exciting project for me (though, long-time Blogography fans will find a few familiar bits sprinkled in).
TOOLS...
All of my drawing is done with Adobe Illustrator. You can buy it for around $499 by itself, or as part of Adobe's Creative Suite for $899 (which is quite a bargain, because it includes Photoshop, a $649 program that I use regularly for retouching photos and enhancing Adobe Illustrator artwork). If the price tag is a bit out of reach, Mac users should check out LineForm, which is a $79 program that's pretty sweet. A totally free option is Inkscape, which is available for Mac, Windows, and even Linux.
The cartoons I draw here are pretty crude and simplistic because I don't have a lot of time to spend on them. But don't let that fool you, Illustrator is capable of creating amazing artwork. It's not a very easy program to master, but your patience in learning the various tools (especially the enigmatic "pen tool") will be rewarded.
All of my animating is done with Toon Boom Studio, a $399 program that's available for Mac and Windows. It's a very comprehensive animation tool with a mind-boggling array of features. A less-expensive option is Toon Boom Express, a $99 package which lacks some of the more advanced features of Studio, but is perfectly capable of making great animations. I should also note that both versions of Toon Boom have pretty good drawing tools, so you don't really have to buy Illustrator (or LineForm or whatever)... I did it because I've been using the program for twenty years and am more comfortable sticking with what I know.
Animations can be completed entirely within Toon Boom and exported from there, but a few of my sequences are being hand-animated in Illustrator as a "special effect" so I am using Apple's Final Cut Pro (from the miraculous Final Cut Studio) to assemble everything. This is huge overkill for most people, but I already have the program and know how to use it, so I'm happy to use it for edits since I'm not that familiar with how to do it in ToonBoom.
WORKING...
I do not use clip-art, and draw everything by hand. I am comfortable using the trackpad on my PowerBook to draw, but am equally comfortable with a mouse. I have a graphics tablet but only use it for painting.
Since I've done storyboard work for the film industry before, I understand their value in getting a handle on the entire project, and decided to use them for my video. Every scene has been drawn out with the song lyrics, so I know exactly what needs to be done. This also allows me to jump around the project and still know where I am at. I've changed my mind a few times, but am sticking to the storyboard "script" pretty closely.
I always animate the characters first, then build the backgrounds around them. This may seem backwards, but since the character animation is by far the hardest part... I'd rather not have the additional burden of trying to make things fit into a background while I'm drawing.
The character of Lil' Dave was created for my Hard Rock site years ago. When I first used him for my blog, and created Bad Monkey, it was just a throw-away joke. I had no idea back then that they would become such an important part of my blog. Unfortunately, this kind of poor planning means they were never meant to be animated, and getting them to move in any believable way is extremely difficult. I had originally planned on hiring somebody to create 3-D models of them so I could study how they look from different angles, but I could never find a LightWave artist to work with. Instead, I just created character sheets and did my best to guess how they should look. It's not perfect, but it seems to be working okay.
The animation "style" I am choosing is somewhere between South Park and Ren and Stimpy. It uses some strange jumps from time to time, but I am attempting to have the movement look at least a little fluid. It's a lot harder than it looks. Worst of all, it's time consuming. I regularly find myself spending 20 minutes to an hour on some tiny detail that I thought would take a minute to do. With this in mind, it helps to have a lot of patience.
I do not have a timetable. I try to devote an hour or two each night, but it all depends on my schedule. It would be nice to have a solid week to work on things, but that's probably not going to happen. I guess that's for the best, because then it might seem more like work, but I do worry that I'll get impatient and quit since it's going to take weeks (months?) to finish up.
AND SO...
... there you have it. Prepare to be totally amazed in a month or two!