It's another Bullet Sunday, but I'm shooting blanks.
• SNOW! Shortly after waking up, I was in bed checking my email and heard somebody outside stomping their feet. This could mean only one thing... the day I have been dreading has finally arrived. Our first snow. I am not a fan of the snow, and never have been. Even when I was a kid. It's cold, it's wet, and it's no fun if you don't ski or snowmobile. And did I mention that it's cold? A quick look out my back window verifies that six inches have fallen overnight and it's still coming down...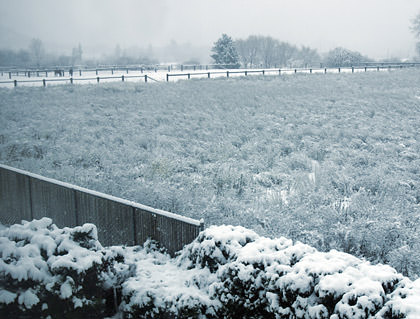 The horsies must not mind the snow, because they seem perfectly happy to be standing outside in it.
• DEPOT! Despite the crappy weather, I was needing some ink for my printer so I drove to Wenatchee over hazardously icy roads to get some. When I arrived, there were three employees but no customers which should mean that the service would be excellent. But the entire time I was in the store trying to find the correct ink cartridge, not ONE of the three asked if I needed any help. They were too busy talking about how slow business was. After five minutes at the ink counter followed by another five minutes in the paper section, I didn't find anything I was looking for and left. Customer service is dead.
• WARE! The incredible Chris Ware (whose Chicago exhibit I visited with Jenny and Gary) had created four amazing Thanksgiving covers for The New Yorker this past month. Fortunately, the magazine has graciously posted them online (with enlargements) so anybody can see them. It's well worth checking out...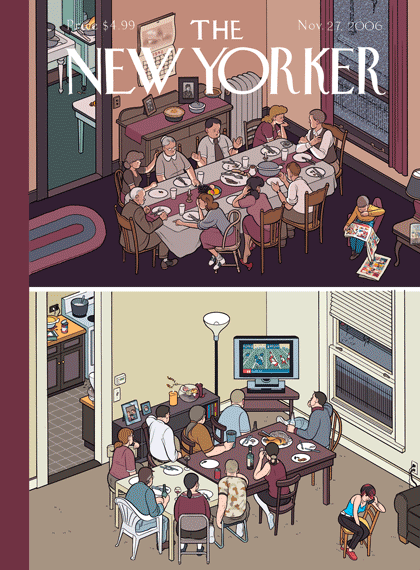 • MADONNA! While working yesterday, I had Madonna's "The Confessions Tour" concert running in the background off my TiVo. I was not impressed. Madge seems to have forsaken the music in favor of being an over-indulgent, annoying, foul-mouthed bitch. She's come a long way since her "Who's That Girl" and "Blond Ambition" tours... and not in a good way. Kind of a pity, because I actually liked the album.
• CUPID! Today I decided to have something I know I would enjoy playing in the background while I worked... the best show ever to air on television: Jeremy Piven's Cupid. The complete series is being seeded on BitTorrent, and so I grabbed it. The quality is crap, but the show is absolute genius. This is probably my twentieth time watching all fourteen eps they made, and my love of the series has not diminished (I'm not an overly-emotional kind of guy, but when I get to the end of the "Heart of the Matter" episode I get a lump in my throat every time). I remain infuriated that it has not been given a DVD release, and am still fuming that ABC cancelled it seven years ago. Dumbasses. How hard would it have been to give it a decent time slot and let it find an audience? Of course, after they did the same thing to Sports Night, you have to wonder if that's something they are even capable of.
• SLEEP! Ah, I almost forgot... there's a new all-natural sleep aid on the market called "Midnite." I've heard it doesn't work for everybody, but it sure does a great job for me. I've been consistently falling asleep in about 15-20 minutes after chewing a tablet. The beauty of it is that it only stays in your system for three hours, so you can take it in the middle of the night if you wake up. Of course, if somebody likes to slam doors in your apartment complex and you don't have the three hours, there's unfortunately nothing Midnite can do for you.
And just like that, Sunday is over.