I've just been abducted by aliens.
And by aliens, of course, I mean the bitches on The View.
I recorded the show a few days ago because Bill O'Reilly was a guest. Not that I like Bill O'Reilly or anything... actually, I think the dumbass is a perfect "10" on the "Are You a Dick?" scale...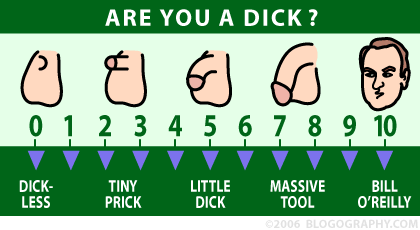 No, the reason I recorded it was because the idea of Bill O'Reilly being in the same room with Rosie O'Donnell was guaranteed fun. Talk about two people on the opposite end of the political nut-job spectrum! I fully expected that I would witness Rosie putting her fist through Bill's head, and that was worth the space on my TiVo.
Holy crap. How do people watch this show? You can't understand a frickin' word, because Rosie, Babwa, Joy, and Elisabeth are screeching at the top of their lungs... ALL AT THE SAME TIME! Nobody shuts the f#@% up for five seconds so you can hear what is being said. I actually ended up feeling sorry for Bill O'Reilly, and I never thought I'd be saying that.
Still. I must admit to being mildly entertained and unable to turn away from this car wreck of a show. Elizabeth (isn't she that chick from Survivor?) is even more annoying than Debbie Matenopoulos!
Fortunately I was able to escape The View with a minimum of anal probing and my sanity in tact.
Barely.
Did anybody teach these bitches not to interrupt when somebody else is speaking? Sheesh.