I live in constant fear of cauliflower.
And broccoli too, but mostly cauliflower because it looks more like a human brain. Although if I stop and think about it, broccoli should be more scary because it's like a green alien brain or something.
Every once in a while I have nightmares where I am being chased by a head of cauliflower which has grown to a giant size by sucking out human brains. Eventually the evil cauliflower traps me in a dead-end alley and there's nowhere to run. I pull out a gun and start firing at the vegetable hellspawn, only to find out that he is bullet-proof...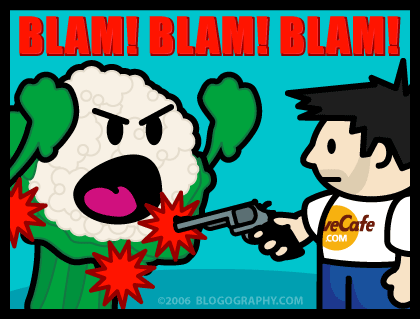 Then, just as the cauliflower is about to eat my brain, I wake up.
And I smell cauliflower.
But then I realize that I farted in my sleep, and that's what caused the nightmare.
Which makes me wonder why people would eat something that smells like farts in the first place.
Anyway...
Tonight I was watching a Steven Wright stand-up special on Comedy Central. The final break had a new Subway commercial where Jared the Subway Sandwich Whore trotted out subs with 6 grams of fat each and compared them to a "Burger King Stacker" which has 54 grams of fat because it's piled high with beef and bacon. FOR THE LAST TIME YOU STUPID F#@%... IF YOU WERE CONCERNED ABOUT FAT WHILE EATING AT BURGER KING, YOU WOULDN'T BUY THE FATTIEST THING ON THE MENU!! Why doesn't Burger King have a commercial where somebody comes out and compares a BK Veggie sandwich with 8 grams of fat to a Subway Spicy Italian Sub with extra cheese and mayo which has 305 grams of fat?? F#@% Subway. And double-f#@% that moron Jared Fogle. He has got to be the biggest douchebag asshole on the face of the planet. I'd like to strangle the idiot with his giant pair of f#@%ing pants and then deep-fry his f#@%ing head...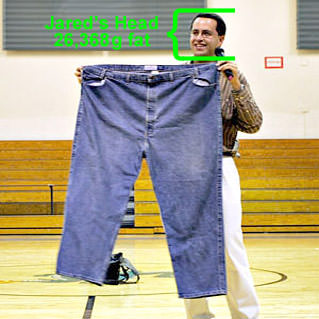 Then I'd make my own television commercial where I would compare Jared's fat head to a Subway Meatball Sub sandwich. They appear to be equal in brain cell grams.