My day started with a trip to the dentist for my 6-month cleaning, and only went downhill from there. By the time I finished work at 8:00pm, I was so sick and tired of life that I was seriously contemplating taking a handful of sleeping pills and crawling into bed. But that seemed kind of stupid... how much worse could the day get at 8:00pm? Because, hey, Ugly Betty, My Name is Earl, The Office, Grey's Anatomy, and CSI are on tonight!
So I plop myself down in front of the television in anticipation of good TV.
Instead I am inundated with stupid-ass political advertising for an hour. I'm guessing it's the same everywhere but, here in Washington State, it's particularly nasty because of the senatorial race. Heaven only knows I'm not a big fan of incumbent Maria Cantwell... but Mike McGavick and his never-ending attack ads is no better. Politicians don't inspire anymore. They just sling mud. They're not interested in solving problems. They're only interested in getting elected.
It just makes me want to bitch-slap them both.
But what's the point? They're doing far worse to each other...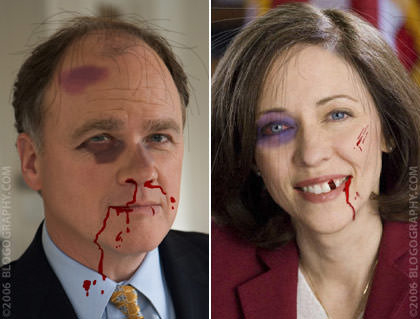 Who wins in these things? No matter which one gets the office, I'm mortally embarrassed to have them as our senator.
I'm too depressed to blog anymore, so I'm stealing a meme from Kentucky Girl which you can find in an extended entry after this really cute picture of me as a tyke...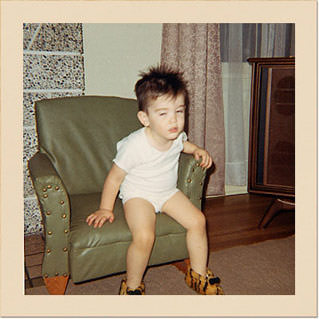 My hairstyle hasn't changed in decades... there's just less of it!
And now for some silly questions I have no business answering...
DO YOU SNORE? No.
ARE YOU A LOVER OR A FIGHTER? Is there a difference?
WHAT'S YOUR WORST FEAR? Falling down on concrete and knocking out my teeth.
AS A KID, WERE YOU A LEGO MANIAC? Yes. A big one. Still am, kind of.
WHAT DO YOU THINK OF "REALITY" TV? It mostly sucks ass. I like Top Chef and Runway but that's it.
DO YOU CHEW ON YOUR STRAWS? No.
WERE YOU A CUTE BABY? Insanely adorable. Did you not see that photo I put up there?
IS THE SINGLE LIFE FOR YOU? Apparently.
WHAT COLOR IS YOUR KEYBOARD? Aluminum.
DO YOU SING IN THE SHOWER? No.
HAVE YOU EVER BUNGEE JUMPED? Yes.
ANY SECRET TALENTS? Several. I could tell you what they are, but then I'd have to kill you.
WHAT'S YOUR IDEAL VACATION SPOT? Bali, Indonesia or Maui, Hawaii.
CAN YOU SWIM? Yes.
HAVE YOU SEEN THE MOVIE DONNIE DARKO? Several times.
DO YOU GIVE A DAMN ABOUT THE OZONE? Yes. Everybody should.
HOW MANY LICKS DOES IT TAKE TO GET TO THE CENTER OF A TOOTSIE POP? About three.
CAN YOU SING THE ALPHABET BACKWARDS? Never tried it.
DO YOU PREFER ELECTRIC OR MANUAL PENCIL SHARPENER? Electric.
WHAT'S YOUR STAND ON HUNTING? I find it sad.
IS MARRIAGE IN YOUR FUTURE? Apparently not.
DO YOU LIKE YOUR HANDWRITING? No.
WHAT ARE YOU ALLERGIC TO? Far too many things.
WHEN WAS THE LAST TIME YOU SAID, "I LOVE YOU" ? A month ago, but not like you would think.
DO YOU CRY AT WEDDINGS? Never.
HOW DO YOU LIKE YOUR EGGS? In the middle of a fried egg sandwich.
ARE BLONDES DUMB? Not the ones I know.
WHERE DOES THE OTHER SOCK END UP? Behind the dryer.
WHAT TIME IS IT? 9:16.
DO YOU HAVE A NICKNAME? Duke (it's a long story).
IS MCDONALD'S DISGUSTING? Not at all.
WHEN WAS THE LAST TIME YOU WERE IN A CAR? A few hours ago.
DO YOU PREFER BATHS OR SHOWERS? Showers.
IS SANTA CLAUS REAL? In my imagination.
DO YOU LIKE TO HAVE YOUR NECK KISSED? Depends on who is doing the kissing.
ARE YOU AFRAID OF THE DARK? No.
WHAT ARE YOU ADDICTED TO? Cheesy Fiesta Potatoes.
CRUNCHY OR CREAMY PEANUT BUTTER? Crunchy.
CAN YOU CRACK YOUR NECK? No.
HAVE YOU EVER RIDDEN IN AN AMBULANCE? Yes.
IS DRUG FREE THE WAY TO BE? Not currently.
ARE YOU A HEAVY SLEEPER? No.
WHAT COLOR ARE YOUR EYES? Black or very dark brown depending on the light.
DO YOU LIKE YOUR LIFE? It's the only one I know.
ARE YOU PSYCHIC? No, but my mind is able to efficiently process data in a way which might make me appear psychic.
HAVE YOU READ CATCHER IN THE RYE? Yes.
DO YOU PLAY ANY INSTRUMENTS? Yes.
HAVE YOU EVER STOLEN MONEY? Never.
CAN YOU SNOWBOARD? No.
DO YOU LIKE CAMPING? No.
DO YOU SNORT WHEN YOU LAUGH? Maybe if I'm drunk and congested.
DO YOU BELIEVE IN MAGIC? Given what I consider to be "magic" - yes.
ARE DOGS A MAN'S BEST FRIEND? To some people.
YOU BELIEVE IN DIVORCE? How could you not when most marriages end in divorce?
CAN YOU DO THE MOONWALK? Never tried.
DO YOU MAKE A LOT OF MISTAKES? As much as anybody, I suppose.
IS IT COLD OUTSIDE TODAY? Yes.
WHAT WAS THE LAST THING YOU ATE? A box of Dots with a glass of milk.
DO YOU WEAR NAIL POLISH? No.
HOW MANY PEOPLE DO YOU LIKE RIGHT NOW? Sixty-three.
WHAT'S THE MOST ANNOYING TV COMMERCIAL? Any of the Subway sandwich commercials with Jared the Subway sandwich whore, though the political ads I mentioned are annoying the f#@% out of me right now.
DO YOU SHOP AT AMERICAN EAGLE? We don't have one where I live.
FAVORITE SONG AT THE MOMENT? My favorite song is Mercy in You by Depeche Mode and has been for nearly thirteen years.
And there you have it. Meh. I'm not even going to watch the rest of Grey's Anatomy... I'll wait until it's all safely recorded on my TiVo so I can skip past the political ads that are driving me insane.
The stupid election can't get here fast enough.