♫ "Won't come back from Dead Man's Corn! ♫
Today I was at the grocery store about to pick up a box of "Orville Redenbacher's Movie Theater Butter Microwave Popping Corn" when I started freaking out because I suddenly realized that Orville Redenbacher is dead. D-E-A-D dead! I would be buying dead man's corn, and was not sure if that was something I wanted to be sticking in my mouth. Snacks loaded with fat and cholesterol, on the other hand, I have no problem with at all.
And then I started seeing dead people everywhere... Betty Crocker... Chef Boyardee... even that Sun-Maid Raisin Girl would be about 100 years old now, so she's probably dead too.
Granted, Orville Redenbacher always looked half-dead (and a little evil?) anyway, but Betty Crocker and the Sun-Maid Girl are HOT! I haven't made up my mind about Chef Boyardee, but I think he's kind of hot too...
I don't know about Mr. Clean, The Morton Salt Girl, and the Gorton Fisherman because I try not to clean with harsh chemicals, avoid added sodium in my high-sodium butter-popcorn diet, and don't eat fish.
Back to my quest for excellence in popcorn, raisins, canned pasta, and cake mix... I have no doubt that while these people were alive, they gainfully supervised over their respective foods with dedication and care. That's how they became famous icons with popular products. But what about now that they're gone? Who's minding the store?
Just to be safe, I passed over Orville Redenbacher and went for Pop Secret brand popping corn.
Only to find out that it is made by Betty Crocker. Or, to be accurate, somebody POSING as the deceased Mrs. Crocker.
So then I put that box back and decided to grab a box of Act II EXTREME BUTTER popping corn.
Only to realize that Act II is a brand in the ConAgra Foods stable of products... which also includes Chef Boyardee and Orville Redenbacher foods. MORE DEAD PEOPLE!
WTF?!? So I put back the Act II (which was kind of sad, because EXTREME BUTTER looked pretty tasty) and decided to go with Jolly Time brand popcorn. It sounds like a very happy popcorn to eat, and I can find no trace of dead people on the box. Except buying this brand is really difficult because there are like... fifty different kinds of buttery popcorn they sell...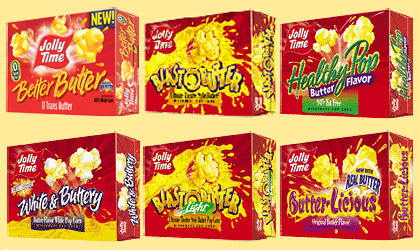 Better Butter. Sounds like bragging, and sets me up for disappointment.
Blast O Butter. Sounds scary and dangerous. I don't want a "blast" in my microwave.
Healthy Pop Butter. From past experience, "healthy" = "crappy".
White-n-Buttery. Sounds racist and vaguely naughty.
Blast O Butter Light. From past experience, "light" = "shitty".
ButterLicious. Buttery + Delicious = Butterlicious! And it's made with REAL butter! SOLD!!
When did shopping for popcorn get to be so much work?
From now on I'm buying generic SafeWay brand foods. It's dead-free, and "safe" is in the name!