In what can only be described as "a blissful turn of events," the amount of hate-mail I've been receiving from this blog has dropped to near-zero. With the exception of the occasional nut-bag who leaves a nasty comment, I haven't seen a good piece of deranged email in months!
Until this morning, that is.
It all seems to begin with the new Aaron Sorkin television show Studio 60 on the Sunset Strip. In the premiere episode, Matthew Perry's character rants about Pat Robertson being a bigot and goes on to compare his "700 Club" show to a Klan rally. This, needless to say, upset a lot of people. And one of these "people" decided to go on a Google crusade, and consequently stumbled across Blogography because of a freaky combination of words found in my archives.
Now, as anybody who has read this blog for a while knows, I despise Pat Robertson. I loathe how he spreads hatred, mis-information, and violence across the globe all in the name of his freaky interpretation of Biblical verse and his personal brand of Christianity. In fact, I think that if Pat Robertson were to be judged by his actions, he is one of the least "Christian" people I have ever seen. He's not a religious leader at all... he's a douchebag with an audience that has no problem calling for the assassination of foreign leaders, condemning victims of natural disasters, and persecuting anybody who thinks differently than he does. But this is all okay, because God tells him he's right...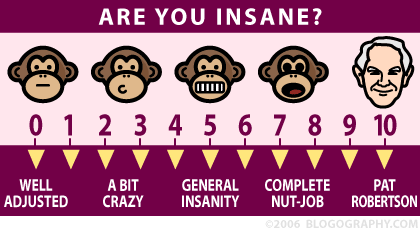 Apparently people like me who disagree with this dumbass are (naturally) going to hell, and this guy had a burning desire to write and tell me that. It was a fascinating discourse which says I could be forgiven for THIS... but not THIS or THIS. The good news, however, is that there's still hope for me if I can turn to The Bible and find my way to Pat Robertson's particular flavor of crazy.
Which is kind of funny, because I've read through The Bible a number of times and distinctly remember it saying how you should run away from hateful idiots like Pat Robertson.
But whatever. I actually appreciate people who send email like this because it almost makes me look sane by comparison.
Anyway... I took the trouble to draw a DaveToon for yesterday's entry, but forgot to post it...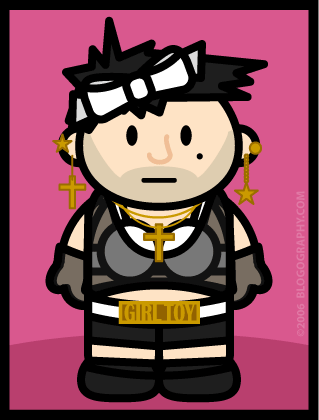 I don't think that the "Material Boy" look is very flattering for Lil' Dave. Maybe because he hasn't got the breasts to fill out that bra?
I probably should have bypassed Madonna's "Lucky Star / Like a Virgin" eras and went for the "Erotica / Vogue" years.